As the demand for plant based food explodes globally, Thailand is certainly in no danger of being left behind. With brand new exciting eateries in Bangkok opening on a regular basis and many established restaurants, hotels and resorts around the country adapting and expanding on their plant based offering, there's never been a better time to visit Thailand. For those of you looking for an extra special experience, something just a little different from the norm, then look no further. We've recently enjoyed what we consider to be four unique plant based dining experiences in Thailand. Each of them serving up delectable vegan cuisine, in extraordinary locations, creating culinary memories to last a lifetime.
What better place to start than in Bangkok, where one of the leading luxury hotels in town offers our first two memorable plant based experiences. The Peninsula Bangkok has an enviable location right on the Chao Phraya River, affording some of the best views in town from this stunning city resort and boosting a unique three tiered riverside pool. Over recent years they've truly championed plant based dining with multiple options throughout this refined property.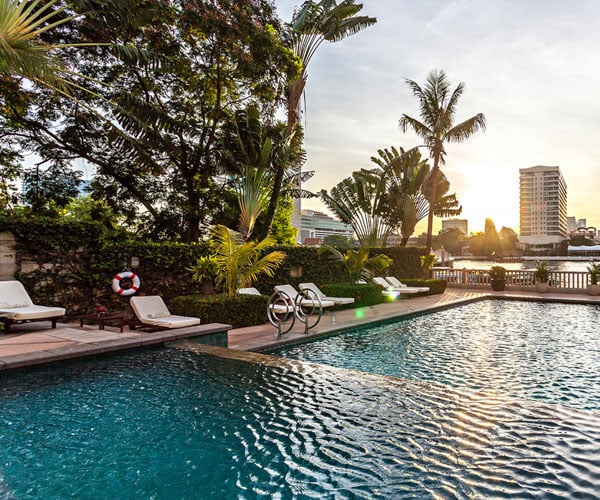 Plant based afternoon tea in The Lobby
Bathed in light from the huge floor to ceiling windows, The Lobby is a serene location to enjoy an afternoon tea. Served daily from 2pm this is quite simply one of the best plant based afternoon tea we've ever had the pleasure to experience.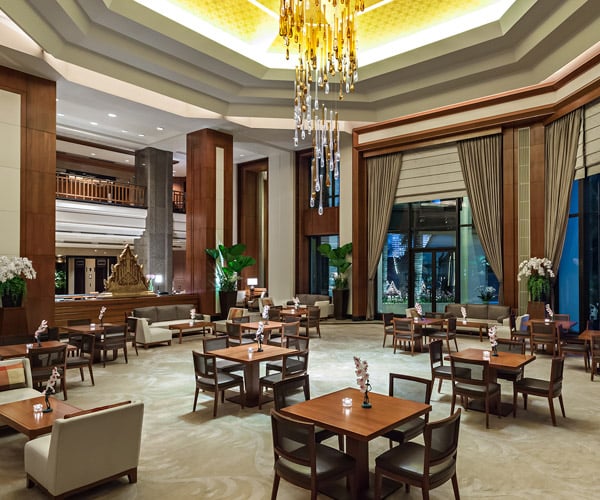 The 'Naturally Peninsula' afternoon tea featured a duo of freshly baked scones with both a biscuity outside and a soft crumbly centre. Served with lemon curd, raspberry jam and peanut butter; they were perfect. As were the selection of sweet treats including tiny muffin shaped, sweet 'Zucchini Cakes', circular 'Apple Tarts' topped with chocolate disks and pastel pink 'Lychee and Pear Jellies' with their delicious almond dough. Intensely rich dark chocolate and hazelnut 'Ferrero Rocher' were a direct stairway to chocolatey heaven. The savoury selection was also extraordinarily delicious, the stars of the show being the 'Beetroot Rose' which was soft and topped with jewels of cucumber gel on a dark rye pumpernickel base. And last but by no means leats, the 'Avocado Mille-Feuille', was beautifully layered with buttery avocado laced with lemon and sandwiched in-between finely sliced sun dried tomato bread and dusted with acai powder.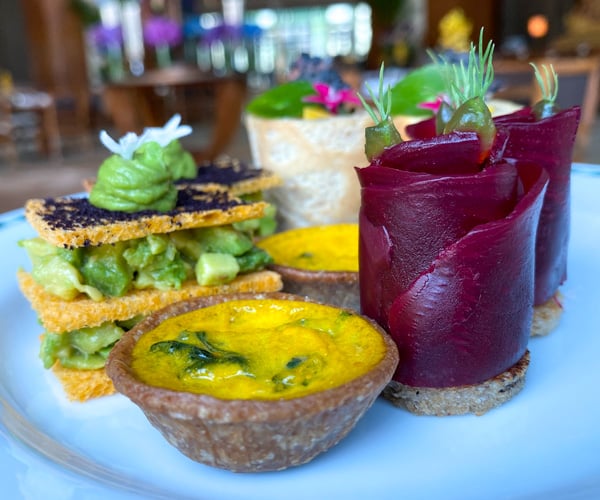 Plant based Cantonese fine dining at Mei Jiang
This is plant based fine dining of the highest level. Refined surroundings, attentive service, and creative Cantonese cuisine combine to create a luxurious culinary experience at Mei Jiang. There were four set menus to choose from, two of which were vegan, displaying the commitment to promote plant based food at The Peninsula Bangkok.
Our 'Longevity' set menu was an eight course journey through Cantonese fine dining, with plate after plate of beautifully presented plant based creations. Our amuse bouche was a rectangular platter of intrigue. Featuring a 'century egg' inspired tomato jelly, yam with charcoal and picked ginger, an heirloom tomato tart with tofu and a soy bean and Omnimeat dumpling served with a flavour packed vegan XO sauce. No Cantonese dining experience would be complete without a double-boiled soup and Peking duck and plant based versions of both were served at Mei Jiang. The Peking duck with gluten mock 'duck', topped with crispy potato 'skin, and served with shredded leeks, cucumber, dragon fruit, pancakes and hoisin sauce was sublime. Absolute perfection on a plate. And our dessert of 'Young Coconut Snow Swallow' was possibly the most surprising dish on the menu. A miniature young coconut filled with hot coconut 'snow ' and cubes of juicy aloe. Delicious.
Luxury resorts don't come much more luxurious than the peerless Soneva Kiri. Just a short flight in their private plane from Bangkok will see you arriving at this unspoiled island in the gulf of Thailand. You can expect unparalleled privacy during your stay as each of the expansive villas offer exactly this.
Huge private pools with multiple day beds surrounded by jungle present the perfect place to relax, with many of the villas being just a few steps from your very own private beach. This is next level luxury and it's easy to understand why Soneva Kiri is considered to be one of the most exclusive resorts in Thailand. With a commitment to sustainability and reducing impact, it's no surprise that plant based food features extensively throughout the resort.
IMPORTANT NOTICE:
If you are reading this article anywhere other than on A Luxury Travel Blog, then the chances are that this content has been stolen without permission.
Please make a note of the web address above and contact A Luxury Travel Blog to advise them of this issue.
Thank you for your help in combatting content theft.
Plant based 'farm to table' experience at Colours of the Garden
When one of the signature restaurants at a resort only serves vegan and plant based food you just know that they are taking it seriously. Colours of the Garden at Soneva Kiri joins similar farm to table plant based dining restaurants at Soneva Fushi and Soneva Jani in the Maldives. This commitment to promoting the multiple benefits of a plant based diet is to be commended and celebrated; it truly is the future.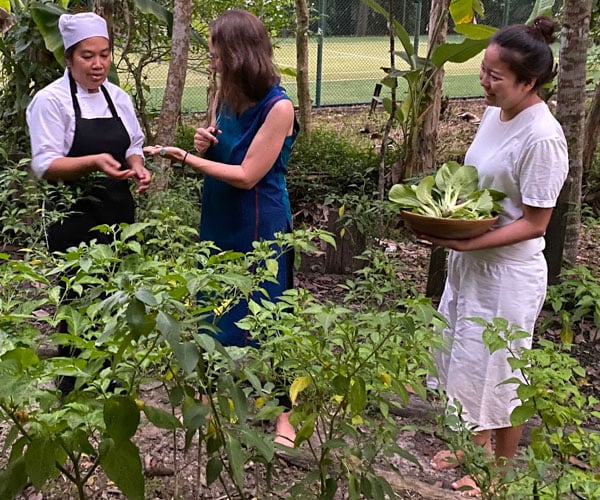 Colours of the Garden is located in the heart of the organic garden at Soneva Kiri and our meal was enjoyed in multiple locations throughout the verdant gardens. Chef and her team joined us as we foraged and collected herbs, salad and vegetables that would form part of our meal. Tasty morsels like fresh spring rolls with sweet chilli sauce were served whilst exploring, before settling down for a cocktail making masterclass where seasonal rose apples were muddled into a refreshing blend flavoured with garden herbs. At our next garden location, we enjoyed garlic and rosemary flatbreads with crudités and a duo of basil and sun dried tomato pestos. Other courses included 'Het Sarong', mushrooms and turnips wrapped in a woven bundle of crispy fried rice noodles and served with a sweet chilli sauce. We then gathered around the fire pit under the starlit sky and watched the next courses sizzle on the grill before they headed straight to our plates. Tofu satay, pulled mushrooms and eggplant scallops were all served straight from the grill; each was superb. The same can be said of our traditional pandan pudding dessert. Green pandan and black coconut charcoal were combined with swirls of fresh coconut for this not too sweet and deliciously melt in the mouth pudding made from rice flour and palm sugar.
Authentic 'no-menu' destination dining concept at Kruua Mae Tuk
Soneva Kiri itself is a destination like no other, with dreamy locations and memorable views throughout the resort. But dining at Kruua Mae Tuk (Tuk's Kitchen) takes this to another level. Depending on water levels, you can head deep into the mangroves on a boat to reach the restaurant. At other times of year a short drive through the jungle sees you arrive at this 'no-menu' restaurant with Chef Tuk at the helm. With her team, she creates authentic and traditional Thai food which is served overlooking the mangroves and surrounded by natural beauty. Our multi course plant based experience at Kruua Mae Tuk was outstanding.
We started with Mieng Kham, the signature starter at Tuk's Kitchen and the only dish that is present each and every night. It consisted of a platter of toasted peanuts, diced ginger, red onion, spicy red chillies, lime, toasted shredded coconut and a spiced sweet plum sauce, all ready to be stuffed into vibrant green betel leaves. We wrapped our ingredients in the leaves like wonderful presents then ate them whole, getting the different explosions of flavour as we chewed. Other dishes included a wing bean salad made from fresh and slightly crunchy wing beans, toasted cashews, sliced shallot and red chilli with a soy and lime dressing. This was zingy and spicy with all the joys of a Thai salad in every mouthful. Crispy deep fried rice crackers with a heavenly sweet creamy coconut milk and tamarind dip were memorably moreish. The red curry with young banana was delightful. Fragrant with kaffir lime leaves, spiced with chilli and the bitterness of the pea eggplants balanced perfectly with the soft sweetness of the pumpkin. Our meal culminated with a traditional Thai dessert made from salted coconut milk, soft sticky rice and longan which had been stewed in purple butterfly pea flowers. The combination of sweet, salty and creamy are what makes Thai desserts so addictively wonderful and this was no exception.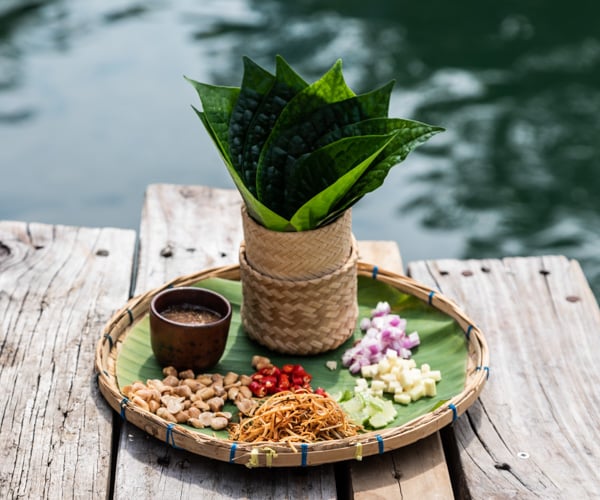 Thailand has always been a favourite destination of ours. The flavours, the creativity, the colours, the smells and the excitement all enticing us back time after time. As vegans, with these type of unique and exciting plant based options readily available, we just know that we are going to continue our love affair with Thailand and the extraordinary cuisine of this enchanting country.
Paul Eyers is Founder of Vegan Food Quest. Vegan Food Quest have become luxury vegan travel specialists as they continue to find, eat and write about the best vegan food in the world.
If you would like to be a guest blogger on A Luxury Travel Blog in order to raise your profile, please contact us.