With Father's Day around the corner, it's a great time to treat travel-loving Dads with a luxury gift that satisfies their wanderlust and refined tastes. With this collection of gift ideas, you can make his globetrotting experiences even more memorable. From sleek accessories to cutting-edge gadgets, these recommendations are guaranteed to ignite his passion for exploration and take his luxury travel escapades to dazzling new heights!
Apple Watch Series 6 Hermès Edition
The Apple Watch Hermès partnership is built on a shared foundation of innovation and uncompromising design. Combine the sophistication of Hermès with the cutting-edge technology of Apple by gifting your Dad the Apple Watch Series 6 Hermes Edition. This exclusive collaboration features a stainless steel case, a Hermes leather strap, and a customizable watch face. With advanced health and fitness tracking, seamless connectivity, and a range of stylish options, this timepiece is perfect for anyone on the move who values both fashion and functionality.
Saffiano leather passport holder from Prada
The triangle logo first introduced on trunks designed by Mario Prada decorates this passport holder, an accessory that blends modernity and tradition. Keep Dad's passport secure and stylish with this holder from premium Saffiano leather – an elegant accessory that not only protects important travel documents but also adds a touch of sophistication to his journeys.
The Macallan M
Part of The Macallan Masters Decanter Series created to showcase the beautiful range of The Macallan's natural colour, M is born of a collaboration between three masters of their crafts to create a completely individual spirit. Let him indulge in a masterpiece of craftsmanship and whisky excellence. This exceptional single malt whisky is presented in a breathtaking crystal decanter designed by renowned artist Fabien Baron. With its rich flavors and extraordinary presentation, it is a truly remarkable gift for the luxury traveller who appreciates the finer things in life.
WH-1000XM4 wireless noise-cancelling headphones from Sony
Discover how the WH-1000XM4 headphones blend are Sony's most advanced noise cancelling with exceptional sound quality and a range of smart features for an unrivalled listening experience. Deliver the gift of superior sound quality and tranquillity with the WH-1000XM4 wireless noise-cancelling headphones – industry-leading headphones that feature advanced noise cancellation technology, exceptional audio performance and comfortable design so that Dad can immerse himself in his favourite music or enjoy peace and quiet on those long flights.
Montblanc Augmented Paper x Montblanc UltraBlack Edition
As part of the Montblanc UltraBlack collection, this limited edition Augmented Paper showcases the new Montblanc pattern, which is embossed on the leather cover. The black-on-black pattern combined with the modern zipper design gives this Augmented Paper a sleek modern look, while keeping the Montblanc elegance. For the luxury traveller who appreciates both digital convenience and the tactile experience of writing, this is a perfect choice that combines a sleek Montblanc ballpoint pen with a digital notepad. With a simple stroke of the pen, your Dad's handwritten notes are transferred to his device, ensuring he never misses a detail while still maintaining the pleasure of writing by hand.
HeatPulse 2 knee massager from Hydragun
There's little doubt that years of travel can take its toll on your knees. If your Dad suffers from knee pain, pamper him with the HeatPulse 2 knee massager from Hydragun. This second generation HeatPulse gets hotter and stays hotter for longer, thanks to next-generation HeatLast™ infrared graphene technology. Using heat therapy and deep tissue massage to soothe and revitalise tired knees after long days of exploration, its portable and compact design makes it an excellent travel companion for the ultimate in comfort.
IMPORTANT NOTICE:
If you are reading this article anywhere other than on A Luxury Travel Blog, then the chances are that this content has been stolen without permission.
Please make a note of the web address above and contact A Luxury Travel Blog to advise them of this issue.
Thank you for your help in combatting content theft.
TUMI 19 Degree Aluminum International Carry-On
The farther you go, the more stamps on your passport, the better your story. His 19 Degree luggage is part of that story. Exceptionally striking up close or from a distance, this super durable TUMI carry-on boasts a modern silhouette with fluid looking, strategically contoured angles. Ideally designed for short, overnight trips and travel within Europe and other international destinations.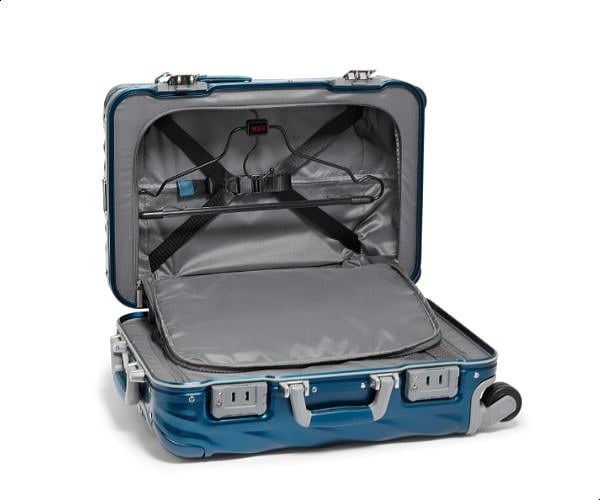 Q2 Monochrom camera from Leica
Welcome the latest member of the Leica Monochrom family, the Q2 Monochrom – the world's first full-frame digital compact camera to feature a dedicated monochrome sensor. For the photography enthusiast, this camera offers a unique and captivating experience. With its black-and-white-only sensor, it captures stunning monochrome images with exceptional detail and clarity. The iconic design, precise craftsmanship, and superb low-light performance make it a dream come true for any luxury traveller who appreciates the art of black and white photography.
Arlo Pro 5 security camerahttps://www.arlo.com/
Capture more than 60 billion colours with Arlo's advanced 2K colour night vision that's over 100X better than a human eye whilst giving your Dad peace of mind while he's away with the Arlo Pro 5 security camera. With not only colour night vision, but also advanced features like 4K HDR video quality and two-way audio, owners can keep a watch on their property with unparalleled clarity and convenience, even from remote locations around the world.
Horizon Soft Duffle 55 Suitcase from Louis Vuittonhttps://www.louisvuitton.com/
Made from iconic Monogram canvas, the Horizon Soft 55 suitcase is a rolling duffle bag with two compact wheels that boasts a totally flat interior, thanks to its external cane. The lightweight trolley system and TSA padlock system, which can be opened and closed with just one hand, bring convenience. It is easy to get at what is inside, thanks to a double-pull zip closure and wide U-shaped opening. The Horizon Soft line was created in partnership with Marc Newson, widely acknowledged to be the most influential industrial designer of his generation.