If you're looking for a vibrant destination in the Middle East, then Dubai is your ticket. Here we detail our top 10 favorite experiences to get you started on your journey through Dubai. From art galleries and beaches to desert safari rides and visiting iconic landmarks – join us as we explore all the unique things.
Burj Khalifa
The Burj Khalifa, the world's tallest building in Dubai, is an architectural marvel and an incredible sight to behold. It towers over 830 meters tall over the skyline on this modern desert oasis. With its commanding view of the Persian Gulf coast, it's no wonder why people come from near and far to experience this feat of engineering and design. When in Dubai, taking a trip up the Burj Khalifa to its observation deck or one of its restaurants should be at the top of your list for unforgettable experiences. It offers unparalleled views that are sure to awe anyone who visits.
Visit to Bur Dubai
There is no better way to truly experience the culture and heritage of Dubai than to explore Bur Dubai. Home to Dubai's most iconic attractions, the winding streets and alleyways of the area are guaranteed to captivate even the most experienced traveler. Shopping enthusiasts will also love the numerous boutiques and souks in Bur Dubai – from clothes, jewelry and spices to furniture, carpets and traditional souvenirs – you can find almost anything here.
Dubai Museum of Future
The Dubai Museum of the Future is an absolute must-visit while in the city. It offers a unique experience beyond anything else that can be found in Dubai — visitors get to explore creative technological advancements and innovative solutions with the potential to shape our future lives. This sprawling museum showcases interactive exhibits, AI applications, and a wide array of art installations and provides insights into several fields, including artificial intelligence, healthcare, and mobility. Additionally, current challenges facing humanity, such as climate change and energy efficiency, are also addressed through stimulating activities and thought-provoking discussion panels to help shape progress for a better tomorrow.
Skydive Dubai
Skydive Dubai offers an unforgettable experience for those seeking thrills and adventure. As the highest skydiving jump spot in the world, looking down from over 4000m gives you panoramic views of all of Dubai's iconic landmarks. With experienced instructors who are happy to answer any questions, two years' experience skydiving is not required – beginner and advanced divers alike are both welcome!
Private desert safari with Oryx spotting
If you're looking for a truly unique and exciting experience in Dubai, then a private desert safari with Oryx spotting is something you must consider. With breathtaking views of the desert landscape, your trip will take you through sand dunes, allowing you to enjoy the tranquility of this untouched environment. In addition, if you're lucky, you may spot an Oryx in its natural habitat – making it as close to real wilderness adventure as possible! Your journey is sure to be filled with breathtaking visuals that will help make your stay memorable.
Private yacht with dinner in Dubai
Splendid views, fine dining, and exquisite hospitality await visitors looking to experience the best thing to do in Dubai. For those eager to take their stay in Dubai to the next level, there's nothing quite like taking a private yacht out for dinner. You can enjoy breathtaking skyline views as you sail, along with champagne. And delicious meals prepared onboard – personalize it by choosing the menu options yourself or sit back and enjoy mouth-watering surprise dishes.
Dubai Frame
Visiting the Dubai Frame is one of the top attractions for visitors to Dubai. Standing at an impressive height of 150m and width of 93m, the observation deck offers fantastic views of both old and modern parts of Dubai. It was built to instill pride in the city's roots, culture, people and history, creating a golden bridge between the past and present of this majestic city. The best part is that visitors can book their tickets online if they want to skip long queues and enjoy a hassle-free experience. It promises to be an unforgettable journey!
IMPORTANT NOTICE:
If you are reading this article anywhere other than on A Luxury Travel Blog, then the chances are that this content has been stolen without permission.
Please make a note of the web address above and contact A Luxury Travel Blog to advise them of this issue.
Thank you for your help in combatting content theft.
Dinner in the Sky
This incredible dining concept makes for a perfect celebration spot or VIP party with family, friends, or colleagues. Professional event organizers make sure everything runs smoothly from when guests arrive to when they leave with amazing memories.
Underwater Suite at Atlantis
Experience the best that Dubai offers with a stay in the luxurious Underwater Suite at Atlantis, situated among some of the most vibrant coral reefs in the world. With floor-to-ceiling views of mesmerizing marine life, you'll enjoy the tranquil waters and vibrant colors of over 65,000 fish. From an incredible view, visitors can make bookings for personalized spa treatments or enjoy relaxing beachside fun at the resort's Aquaventure Waterpark.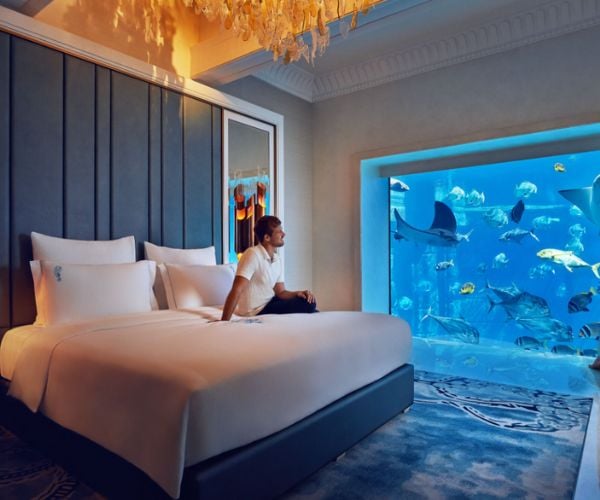 Visit the Gold Souk
A visit to the Gold Souk in Dubai is a dazzling experience. With its glittering stores full of jewelry set with precious stones, walking through the area is like contracting an eye disease due to all of the dazzling brightness all around. Additionally, it's the perfect place to snag some deals and bargains. Located in the Meena Bazaar area of Bur Dubai, this massive souk is home to over 300 gold retailers, so customers can confidently bargain for the best deals in quality and price.
Dubai is an amazing city with so much to do and see. From shopping at the world's largest mall, to exploring ancient mosques, there is something for everyone in Dubai. If you plan a trip to this exciting city then add these 10 activities to your itinerary.
Jay Kajaria is Founder of Bespoke India Holidays. Bespoke India Holidays is an award-winning company that specialises in creating luxury trips to India and the subcontinent.
If you would like to be a guest blogger on A Luxury Travel Blog in order to raise your profile, please contact us.