Renowned as a vibrant and dynamic Meditrranean island, Ibiza is home not only to breathtaking landscapes, but also a rich culture and an energetic nightlife, which combine to provide a unique offering that appeals to tourists from all around the world. And for those looking to experience the quieter, more sophisticated side of Ibiza, there coiuld be few better places than Marsol Apartments at Santa de Elularia, just a 20-minute drive from the airport.
The welcome
We were arriving into Ibiza Airport on quite a late flight and, with security to pass through and a hire car to collect, our arrival at Marsol Apartments was going to be even later. Thankfully, we were able to self check-in through the help of reception who communicated with us via WhatsApp. A physical key was left in a secret location for us to collect, and we were also issued with two electronic keys (using the Assa Abloy – Hospitality Mobile Access app). Both worked a treat and we were warmly welcomed at reception the following morning when we completed the check-in process.
The room
We stayed in Apartment 1B – a ground floor family apartment just opposite reception, with its own terrace. As we entered, there was the main sleeping area on the left with a double bed and super-large LG TV.
Just beyond this was a bathroom (more on this below) before the apartment opened out to a wider living space with a kitchenette, sofa bed and desk area. Beyond this was the terrace.
The apartments themselves are spacious, modern, and equipped with all the necessary amenities to ensure a comfortable stay, and serve as an excellent base for exploring the island.
Although the beach is only a stone's throw away, having your own small outdoor private space is an added bonus.
The bathroom
Our apartment included a compact bathroom with rainfall shower, basin and WC. Fluffy towels are provided, and there's a heated mirror as well as a shaving mirror.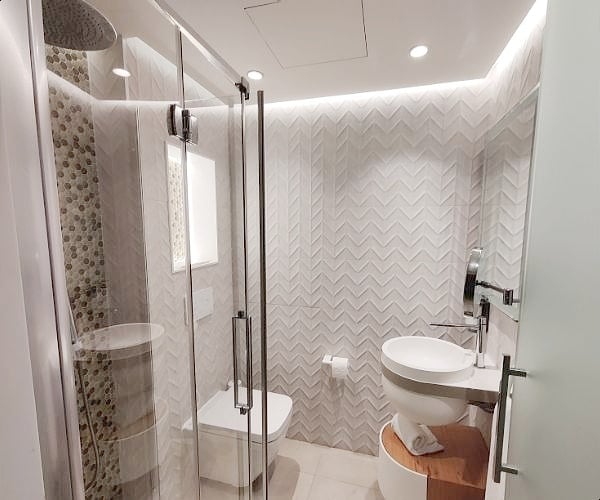 There are Hierbas de Ibiza toiletries, a collection of luxurious and fragrant products incorporating the essence of the island's indigenous herbs such as thyme, lavender and rosemary.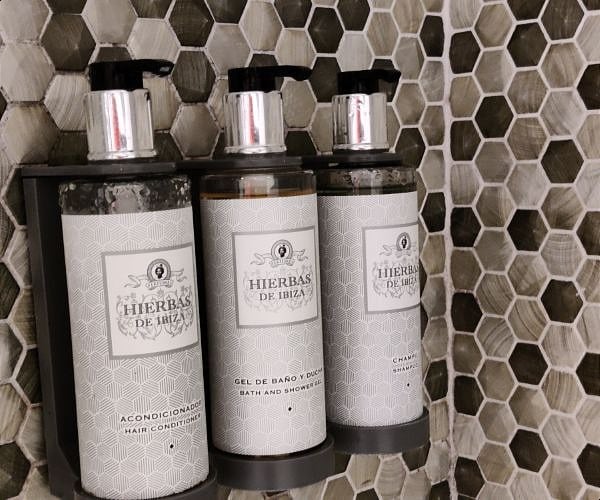 The facilities
As Marsol Apartments come complete with a kitchenette, and are close to a supermarket, you are very much self-contained and have everything you need to cater for your own needs should you wish. At the same time, though, you are among a number of restaurants and bars which it would be a shame not to sample.
Next door, the Marriott's Hotel Riomar – a Tribute Portfolio Hotel – has the Ocean Brasserie which offers an all day menu for relaxed beachfront dining.
Stand-out starters include the Toro tuna tartar with avocado, cantaloupe melon, nori, rice and delicate wasabi pearls, as well as the super green salad with avocado, edamame, kale, asparagus, lemon and mint vinaigrette.
Keeping it healthy, I chose the delightful grilled sea bass with green beans, succulent cherry tomatoes, red pesto and a touch of fragrant basil oil.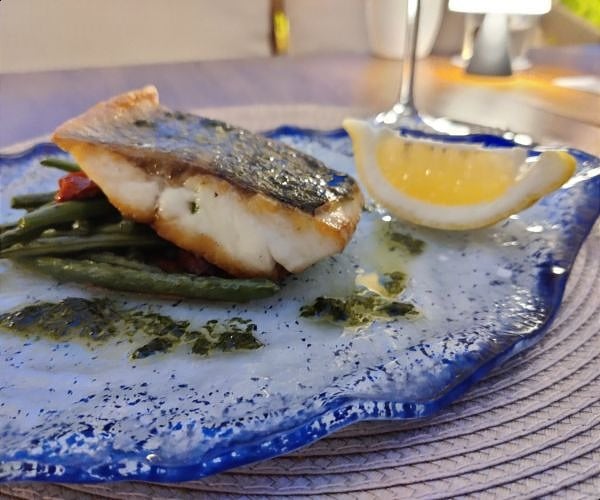 Our desserts included the lemon meringue tart and a rather indulgent Riomar cheesecake with Balearic cheese and a red berry marmalade.
There's also a pool with sun loungers at the Hotel Riomar where you can purchase a day pass for a very reasonable 60 euros since this includes a 40-euro credit that can be used against food and drinks served from the Ocean Brasserie.
The same all day menu is available at lunch. We recommend sharing the exquisite Iberian ham as a starter, served with a crispy sourdough smothered in a rich and flavourful tomato garnish.
For the perfect lunchtime snack, indulge in the mouthwatering chicken Milano sando-sandwich – a scrumptious creation that combines succulent chicken with the perfect blend of coleslaw, juicy tomato, zesty mustard and crispy French fries.
Ordinarily, there would be free WiFi throughout all the Marsol Apartments. Unfortunately this wasn't working at the time of our stay, but we were able to use the WiFi of the KOBU by UM restaurant next door.
Location
Marsol Apartments enoys a fabulous spot just 20 metres from the beach at Santa Eularia. This location also provides easy access to many of Ibiza's a good selection of restaurants and bars, without the hustle and bustle that you'll experience in livelier parts of Ibiza.
For us, this was a huge bonus, not least because our eldest son was competing in the age graded World Aquathlon Championships (a one-kilometre swim followed by a 5k run, and part of the World Triathlon Multisport Chaimpionships) and the start of his race just so happened to be from the stretch of beach immediately outside Marsol Apartments!
I'm pleased to report that he came 5th in the world in the 19-and-under age category, and was the 1st-placed GBR, meaning he automatically qualifies for next years World Championships which take place in Australia… maybe another trip we can be planning!
Other nice touches
One of the nice things about Marsol Apartments is that this is serviced accommodation, so staff will come and make up your room for you each day if that is something you would like. Equally, if you'd like more privacy, you can just leave a hanger on your door to say that all is well.
IMPORTANT NOTICE:
If you are reading this article anywhere other than on A Luxury Travel Blog, then the chances are that this content has been stolen without permission.
Please make a note of the web address above and contact A Luxury Travel Blog to advise them of this issue.
Thank you for your help in combatting content theft.
Cost
Family Deluxe Apartments (45 sq m) with a terrace start from 159 euros per night and can sleep up to 4 people.
Superior Sea View Apartments (30 sq m) start from 180 euros per night and sleep 2 people.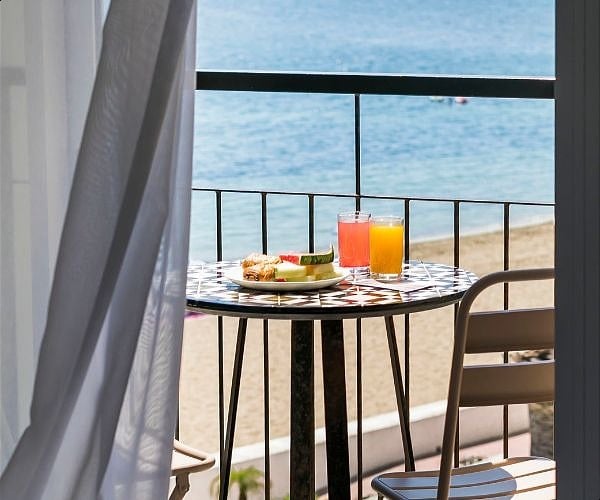 The best bit
Arguably the best bit about Marsol Apartments is its location. Unlike others parts of Ibiza that are renowned for their party lifestyle, Santa Eularia des Riu exudes a laid-back and sophisticated vibe. With its pristine sandy beaches, charming promenade and vibrant marina, the town offers a perfect blend of relaxation and entertainment. The atmosphere is welcoming and tranquil, attracting visitors who appreciate a more tranquil and family-friendly experience compared to the bustling nightlife of other parts of the island. The picturesque waterfront, lined with trendy cafés and restaurants, creates a stylish and cosmopolitan ambiance.
The final verdict
Marsol Apartments offers guests clean, airy and modern accommodation that is perfect for families or for couples seeking a little more space. The inclusion of a kitchenette is a great addition for rustling up a quick snack and the superb beachfront location, in a part of Ibiza that is more refined than most, is the icing on the cake.
Disclosure: Our stay was sponsored by Marsol Apartments.