India is long established as a Mecca for travellers, drawn to the kaleidoscope of experiences to be discovered. It is a land that has much to explore, from its wildlife, spiritual and cultural heritage to its dramatic scenery from lush jungles to arid deserts, snow-capped mountains and excellent beaches. However, there is an India beyond the Taj Mahal, and apart from the regular must-see sights and activities featured on usual guide books and travel itineraries, there are still some authentic experiences not known to many.
Breakfast with peacocks in Jaisalmer
An early morning ride, deep into the desert where lies a beautiful setting for your leisurely breakfast. This early hour heralds the arrival of some hundreds of peacocks called in to feed. In the distance the boy whistles and you see these magnificent birds striking in their plumage swooping in by the masses coming to be fed as the sun begins to rise over the Fort and there you are a spectator marveling at this feast for the senses replete with liqueur, buffet and bird!
A cup of coffee at Sherous Hangout café in Agra
Sheroes Hangout is a remarkable community-led initiative in India that is making a real difference in the lives of acid attack survivors. With cafes in Agra and Lucknow, Sheroes Hangout is run entirely by survivors and serves as a place for them to restore their dignity and find a new sense of purpose. The cafes offer more than just delicious snacks and refreshing drinks. They also feature a library, an activism workshop, a community radio hub, and an exhibit space where visitors can view works created by the Sheroes themselves. All of these elements come together to create a unique and inspiring environment that celebrates the resilience and strength of these incredible women.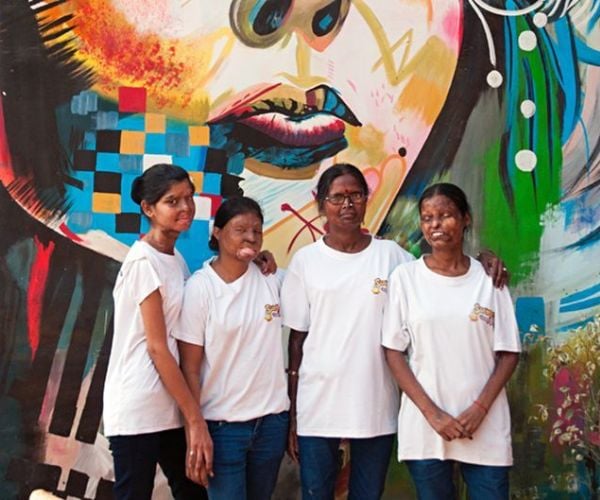 Explore the potters' colony of Kolkata
Kumartuli is a neighborhood in Kolkata, India, that is renowned for its artisans and sculptors who create beautiful idols of gods and goddesses for Hindu festivals and rituals. The word "Kumartuli" literally means "potter locality", and the area is home to a vibrant community of potters and artists who have been practicing their craft for generations.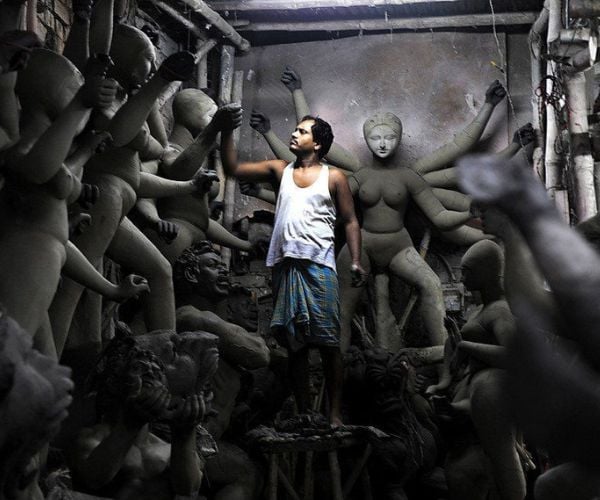 Attend the World Sacred Spirit Festival in Jodhour
The World Sacred Spirit Festival in India is a truly unique celebration of music, spirituality, and culture. Held annually in the majestic city of Jodhour, the festival brings together renowned musicians, artists, and spiritual leaders from around the world to share their diverse traditions and explore the power of music as a unifying force. The festival is held in the stunning Mehrangarh Fort in Jodhpur, a UNESCO World Heritage Site. The historic fort provides a captivating backdrop for the performances and add to the mystical and enchanting atmosphere of the festival.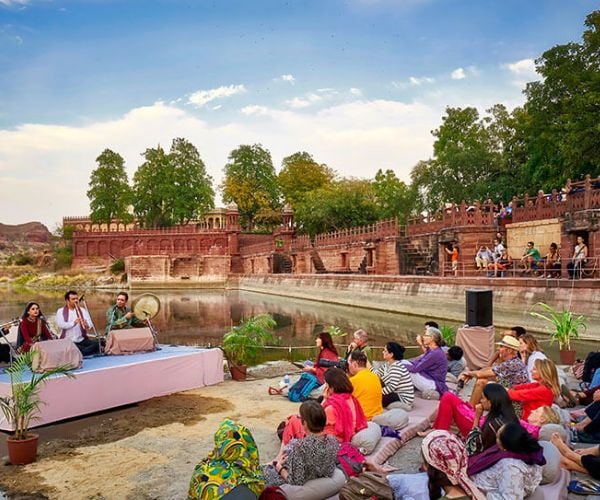 IMPORTANT NOTICE:
If you are reading this article anywhere other than on A Luxury Travel Blog, then the chances are that this content has been stolen without permission.
Please make a note of the web address above and contact A Luxury Travel Blog to advise them of this issue.
Thank you for your help in combatting content theft.
The Jiva Spa Boat on Lake Pichola in Udaipur 
The Jiva Spa Boat on Lake Pichola is a one-of-a-kind wellness experience in Udaipur. Set on the tranquil waters of Lake Pichola, the spa boat by Taj is a floating oasis of relaxation and rejuvenation that offers a range of holistic treatments inspired by ancient Indian healing traditions. The spa boat is designed to provide a serene and peaceful environment, with stunning views of the surrounding lake and the majestic palaces and temples of Udaipur. The treatments on offer include traditional Ayurvedic massages, body scrubs, facials, and yoga sessions, all of which are delivered by experienced therapists trained in the art of healing.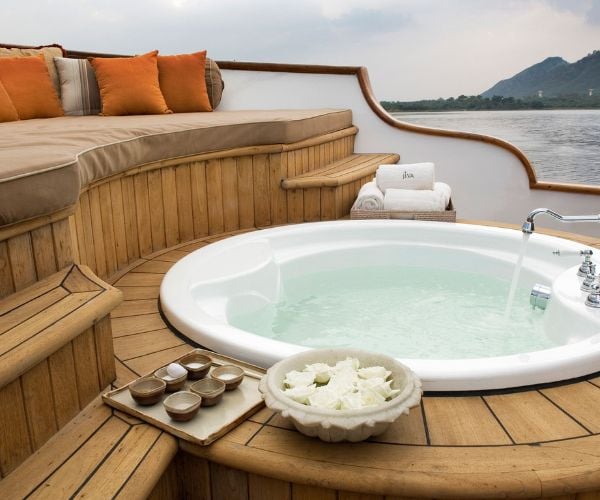 Parinita Salaria is Co-Founder of Indus Bound. Indus Bound is an award-winning, specialist boutique travel company offering bespoke, luxury private India tours and tailor-made India holidays.
If you would like to be a guest blogger on A Luxury Travel Blog in order to raise your profile, please contact us.