The area surrounding Plitvice Lakes National Park offers a wide range of activities for every type of visitor. This gorgeous Croatian national park, inscribed on the UNESCO World Heritage List, is renowned for its spectacular cascades, turquoise lakes, and luscious forests. Here are some suggestions to help you make the most of your trip to the region:
Zavratnica – Hidden gem of the Adriatic
The Croatian part of the Adriatic coast contains many hidden gems, such as Zavratnica, a stunning bay located in northern Dalmatia near the town of Senj. Visitors are sure to be captivated by the incredible natural attractions, most notably its high cliffs descending steeply into the sea and making for a spectacular scenery. One of the best ways to explore Zavratnica is on foot and there are several trails leading to this hidden bay, each of them offering a unique view of the surrounding landscape. During your hike, you will be treated to the delightful aromas of Mediterranean herbs and a great view of the diverse marine life found in the bay's crystal-clear water.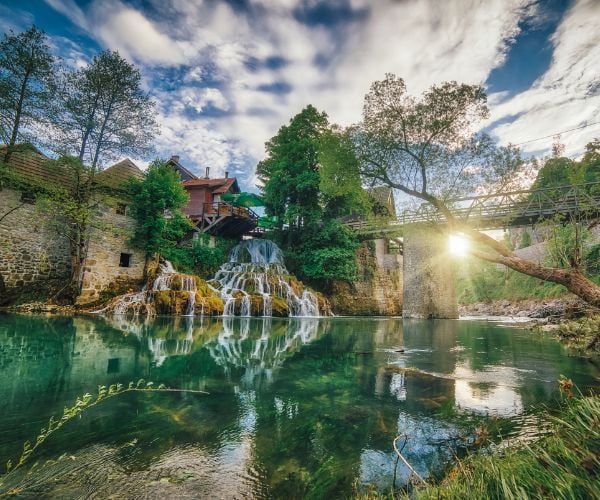 Moreover, given its breathtakingly rich underwater world, Zavratnica is also a haven for amateur divers. Should you decide to dive in the bay, you will have the opportunity to explore its many caves, some above ground and others underwater, as well as rock formations, all of them hiding the secrets and treasures of the Adriatic Sea. Natural beauty isn't the only attraction of Zavratnica, as the bay also has a rich history, having been used a shelter for ships and submarines during World War II. Nowadays, divers and history buffs can visit the remnants of these sunken vessels.
All in all, this hidden Adriatic oasis is the perfect spot to make lifetime memories while relaxing and enjoying its pristine nature and natural bliss.
Rastoke
The picturesque village of Rastoke, also known as "Little Plitvice", is located near the Croatian town of Slunj. This charming place attracts visitors due to its unique natural beauty and rich history. Gorgeous cascades pouring into and flowing down the Slunjčica river, contributing to the village's idyllic scenery, are the main attraction of Rastoke. However, it is also important to note the rich cultural heritage of this place, such as the old water mills once used for milling grain. Nowadays, many of them have been converted into charming restaurants and holiday homes, providing their guests with an authentic experience of traditional life in this area.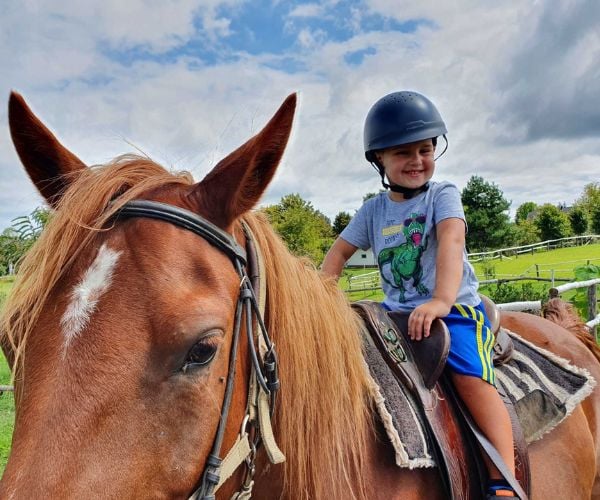 Rastoke is the perfect destination for all nature lovers who enjoy peace and quiet. Here, you can relax while being serenaded by the sounds of water and birdsong, explore picturesque trails, and enjoy the impressive view of the cascades. The new bridge over the Korana river also makes it easier to explore the village in a full circle and access all of its attractions on both sides of the river. In summertime, you can take a dip in the refreshing public swimming area of the Korana river, located in close proximity of Rastoke. Should you travel to Croatia and the Plitvice Lakes National Park, Rastoke is a must-visit, as this small village will captivate you with its natural beauty and authentic ambiance.
Horseback riding
In the area surrounding the Plitvice Lakes National Park, you will find a number of ranches which are the ideal destinations for all amateur equestrians looking to fulfil their childhood dreams.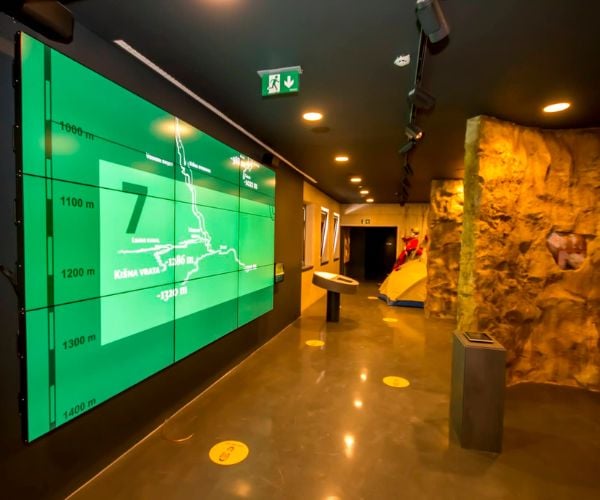 The majestic Wild Spring Ranch offers horseback riding for all ages – an unforgettable experience for beginners and an exciting off-road adventure for intermediate and advanced riders. The visitors can also ride a carriage whose design is an homage to the Wild West wagonette.
Equus Igni Ranch offers a variety of horseback riding programmes for all nature lovers and amateur equestrians. Before heading on a forest ride, beginners will receive a short lesson in horseback riding. Meanwhile, the more experienced riders have a wider array of options, including horseback riding tours lasting several hours, day trips, and multi-day tours, all adapted to their level of experience and fitness.
Rakovica Equestrian Club offers an impressive experience of horseback riding through spacious green areas, enchanting forests, crystal-clear rivers, and idyllic snowy landscapes. The Club also has a horseback riding school with basic lessons ideal for beginners and offers short horseback rides.
Terra Ranch is a family-owned ranch offering unique horseback riding adventures in small groups, taking you along gorgeous natural pathways. With well-trained horses and high-quality horseback riding equipment, you can fully relax and enjoy your ride, trot, or gallop out in the green meadows. New service – a romantic carriage ride through the enchanting Plitvice Valleys!
IMPORTANT NOTICE:
If you are reading this article anywhere other than on A Luxury Travel Blog, then the chances are that this content has been stolen without permission.
Please make a note of the web address above and contact A Luxury Travel Blog to advise them of this issue.
Thank you for your help in combatting content theft.
Rastoke Equestrian Centre – Fairyland is dedicated to beginners in the world of horseback riding who will have the chance to get to know these intelligent and graceful animals for the first time, which is an experience to remember. The goal of the Centre is to introduce as many people of all ages to these four-legged friends, teach them about horse raising and the role these animals play in our communities, as well as about the importance of preserving the fragile natural balance between humans and animals.
Horseback riding is not only a great way to relax your body and spirit, but also an opportunity to connect with the wilderness. Every person who has ridden one of these noble animals cherishes it as a truly special memory. Horseback riding tours through impressive natural landscapes guarantee a unique adventure to every visitor.
Velebit House
In the heart of the endless forests and mountain peaks of Velebit, you will find a peaceful oasis known as the Velebit House. The House serves as a visitor and information centre within the Northern Velebit National Park, located in the idyllic village of Krasno, one of Croatia's largest mountain settlements. This modern and attractive centre gives its visitors a unique opportunity to get to know the natural and cultural wealth of the Northern Velebit National Park all year round.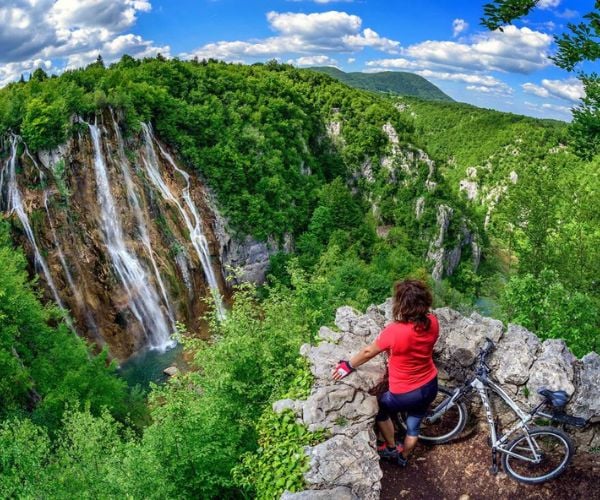 The Velebit House takes you on an unforgettable journey through its four floors, intertwining a number of themes, all of which slowly unravel the treasures of Velebit. While humans and their direct and indirect impact on nature and its values are the central theme, you also will get to know the diversity of the flora, the fauna, and the landscapes of the area. The latter are mostly famous for the numerous surface karst formations, such as limestone pavements, sinkholes, ridges, and crags, although the underworld, a secret realm unknown to most visitors, is filled with even more impressive treasures. If you wish to escape the stress of everyday life and marvel at the beauty of pristine nature, the Velebit House is the place to be. Here, you will truly connect with the very soul of Velebit, its wilderness and tradition, and take lifetime memories and experiences back home.
Cycling
Are you ready to explore the stunning area surrounding the Plitvice National Lakes Park by bike? Well, look no further than the cycling routes in the nearby picturesque villages! Located in the heart of Croatia, this beautiful region is the ideal blend of natural beauty and exciting cycling routes. From the winding road, you will have an unobstructed view of nature, feel its freedom, and enjoy the scents of cultivated meadows and luscious forests. The cycling routes will lead you through lovely pristine nature with barely any road traffic, as well as through the forests and hills. Wind, something that only true cycling enthusiasts can appreciate, is all that you need. While cycling, you will spot farms with grazing cattle and bees flying into their colourful hives, and don't worry, there are routes for everyone – from casual to experienced cyclists. On the outskirts of the Municipality of Vrhovine, you will find even more routes which will delight all lovers of nature and cycling. No matter which route you take, make sure to set aside time to explore the picturesque villages of this region which offer a glimpse into the traditional Croatian life with their stone houses, vivid gardens, and friendly locals. Take a break from cycling to experience the local culture by visiting various stands or enjoying the regional dishes in a local restaurant.
In this blog post, we outlined some of the activities available near the Plitvice Lakes National Park. This region promises an unforgettable experience to all types of visitors among its pristine nature and breathtaking landscapes.