If you are heading to the Orlando area on holiday, a villa rental is one of the best ways to accommodate your party. The owners and management companies have seriously upped their game recently with themed villas, waterparks in the garden and even casinos. (We also know one with it's own ice rink – no less)!! Unlike hotels, you are free to come and go, and there are no scheduled meal times. Instead, it is a luxury home-from-home experience with access to a fully functional house that provides separate bedrooms, a dining area, a kitchen, a lounge, and impressive outside spaces. A lot of the luxurious villa rentals in Orlando are situated in gated communities such as Reunion resort (a famous haunt of the A lister celebrities) and are available to rent, no matter whether you are holidaying as a family of four or have a multigenerational group of friends and families.
After a long day exploring the many different parks, it is fabulous to be able to come home and spread out as a family. Many properties offer games rooms or home cinemas, making entertaining the children a breeze. There is a fully functional kitchen so you can prepare meals as and when you are ready, and the absolute icing on the cake is the outside area which tends to feature private swimming pools, saunas and barbecue areas. Of course, each villa has something different to offer, so let's have a look at five of the best I have found at Reunion.
This modern 7-bedroom mansion (Reunion Resort)
This multi-featured mansion is found on the reunion resort and is perfect for groups of up to 17 people spread across seven bedrooms. There are four suites, offering king-size facilities and an impressive, all-white bunkhouse that accommodates four more. Each of these is ensuite, featuring dual sinks and stunning oversized showers. If you prefer a bath, there are also gorgeous feature tubs that you can soak away in four hours.
What stands out in this mansion is the care and attention taken to every aspect, specifically the awesome Happy Camper theme that is sure to delight and entertain the children of the party. There are two themed rooms which feature four bunkbeds in each. In one, you will find a tent big enough to sleep in and a tree in the middle of the room. In addition, there is a fake campfire and all the essentials you would expect to find on an actual campsite, such as lanterns. The second themed room has been designed to replicate a camping lodge and has rustic-styled bunkbeds, a second faux fireplace, and if you look to the ceiling, a real canoe has been hung to create an authentic feel.
Once everyone has agreed on which bed they plan to sleep in, it's time to take a look at the impressive social areas, which include an indoor basketball court and a fully functional fitness room. On the second floor, there is also a cocktail lounge where the adults can escape and find some peace. Here you can also access the balcony, which is the perfect place to enjoy your drink as you relax in the hammock. There is very little chance of being disturbed by the children once they find the games room. It is a captivating and delightful fort-inspired area with several arcade games, a slide, air hockey, and plenty of other activities. You can also relax around the private swimming pool or enjoy a movie in the drive-in-themed area, which includes the back of a pick-up truck as luxury seating. But don't worry; there are plenty more seats for everyone to get comfortable and enjoy the screening.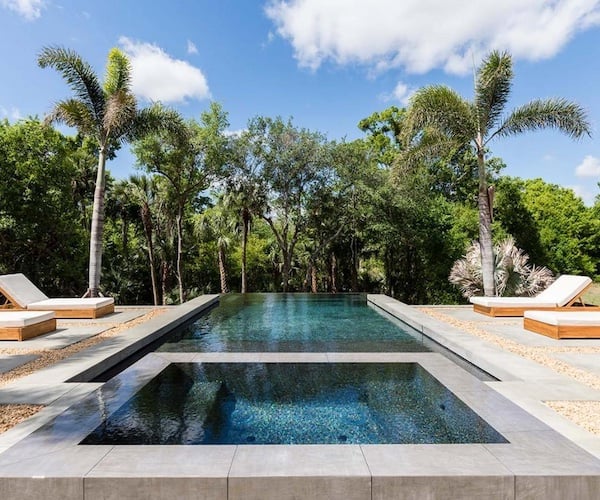 An 8-bedroom villa with basketball court (Reunion Resort)
If you have a larger party, this modern and well-thought-out eight-bedroom villa can accommodate up to 20 guests. There is an elegant appeal throughout the property to appeal to the adults, but that does not take away from the fun designed to entertain the younger guests. A secret playroom provides a slide, ball pit, arcade game and mini cinema room with the perfect seats and footrests for kids. For minion fans, one of the quad bunk rooms is perfectly themed with yellow troublemakers all over the place. There is also a beautiful pink-themed pink room for the young fashionista featuring a mini stage for karaoke performances.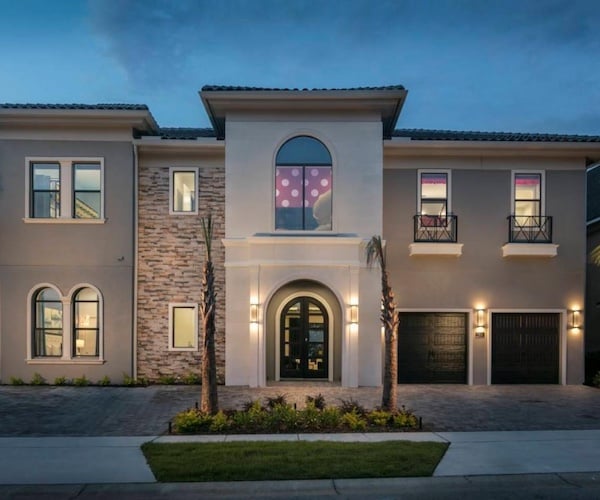 Guests are entirely forgiven for skipping a couple of days away from the theme parks and instead taking full advantage of the incredible resources on offer within this stunning villa. Head up to the loft area to find the hidden playroom and discover a pool table and air hockey; look up to the ceiling, and the feature lights have iconic movie and pop icons from the 50s, 60s and 70s. or stay downstairs and enjoy the mini basketball court and sharpen your hoop skills. Of course, you can also enjoy a movie marathon in the luxurious home theatre, which features gorgeous recliners, complete with a snack tray to store your drink and popcorn.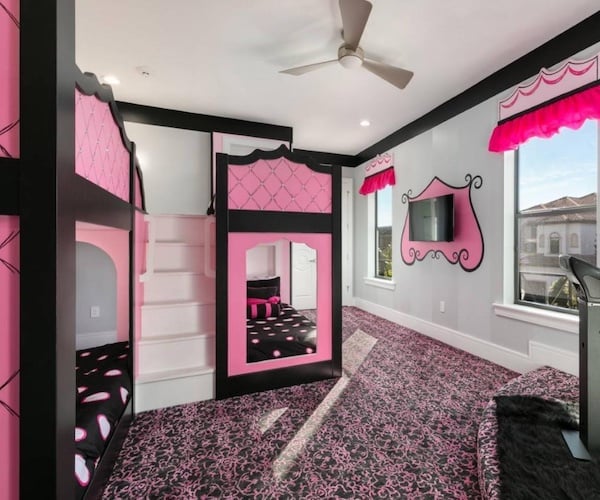 One thing you can almost guarantee in Florida is the wall-to-wall sunshine, and the temperatures can actually be quite hard to handle if you're not used to them. But, thankfully you can head outside and cool off in the gorgeous Infiniti swimming pool, which features a spillover spa. If you are not in the mood for the humidity of a kitchen, why not prepare your dinner outside in the barbecue area? If you happen to overdo the holiday food and are feeling a little sluggish, then you can take advantage of the home gym, which is fully stocked with everything you need, and once you are finished, head to the steam shower for a post-workout refresh. This gorgeous property is also on the Reunion resort, which is just a short shuttle ride away from Disney and all, but it has to offer, so when you are ready to leave your luxury accommodation, getting out and about is easy.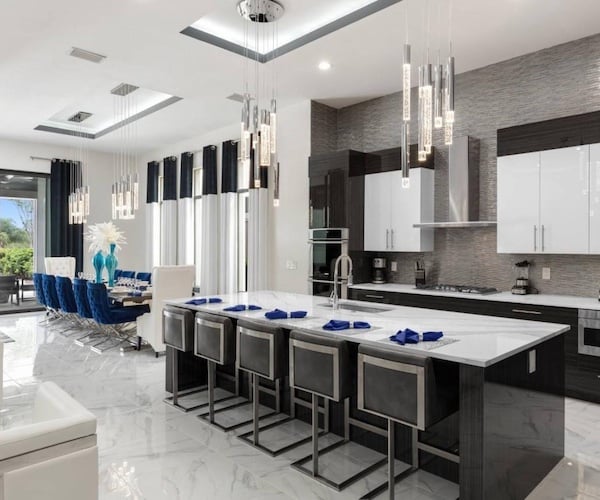 This 7-bedroom luxury Orlando-themed villa (Reunion Resort)
Another amazing seven-bedroom villa which will accommodate a party of up to 18, can be found on the reunion resort. It is another gorgeous property with amazing outdoor facilities. A private pool has semi-submerged loungers where you can pass the time of day with a cocktail in your hand. You can also pop out and enjoy the hot tub while taking in the gorgeous views that surround the villa. Just outside the boundary gate is the lake, where you might even be lucky enough to spot a bald eagle or heron. If you don't want to stay in the water, you can soak up the sun from one of the surrounding lounges or head up to the villa terrace and just enjoy the views.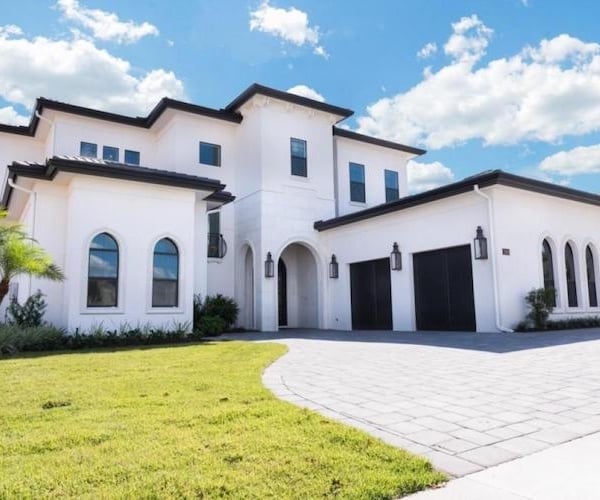 There is plenty of choices when it comes to bedroom space; there are three king-size master bedrooms featuring lake views and direct access via sliding glass doors to the balcony area. They all offer walk-in showers or a tub and twin vanity units, so sorting out who sleeps where should be child's play. Speaking of child's play, the younger members of the party are in for a real treat. There is a castle-themed room, which features twin bunk beds, a hangout room with four full-size beds and a pirate-themed room with a further twin bed arrangement.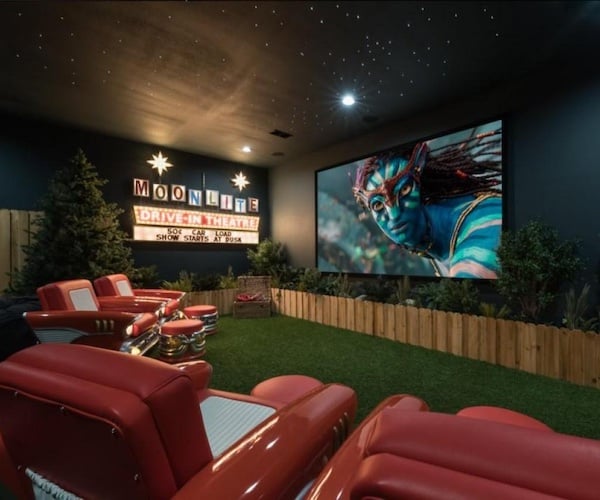 For evening entertainment, a fabulous themed drive-in movie theatre has a classic car sofa, style, seating and a full queen-size truck bed, all perfectly positioned for a view of the big screen and projector entertainment system. There is a Dino arcade featuring a life-size Tyrannosaurus rex and plenty of arcade-style games. You'll need to look carefully to find the entrance to the full-sized tube slide, and each of the bedrooms has a flat-panel television. For a little more sophisticated evening entertainment, the upper floor lounge area features a lake view, access to the outdoor living space, and a bar for creating the perfect drink and shuffleboard.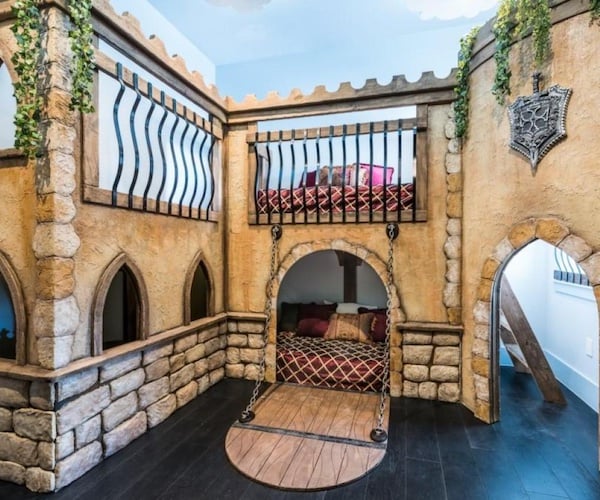 A 12-bedroom Reunion Florida mansion (Reunion Resort)
This is an absolute masterpiece and perfect for larger family groups. There are 12 bathrooms, three of which are specifically designed with younger guests in mind. Overall the villa can accommodate 26 people, and the bedrooms are so fantastic that we won't tell if one of the adults wants to spend a night in the themed kid's rooms! There is a princess-themed kids' room with four bunkbeds, an Ocean-themed area with four bunkbeds, a slide and plenty of other fun and an out of this world sci-fi themed room with a tie fighter and a definite Skywalker-esque vibe.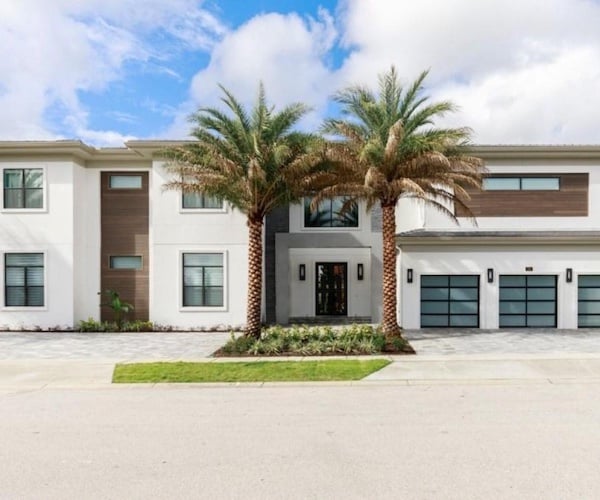 The adult bedrooms are all beautifully laid out, each with a different colour theme and featuring ensuite facilities and walk-in closets. They are all designed with opulence in mind, and every bedroom has a 60-inch television as well as access to complimentary Wi-Fi. If you still can't find a spare screen and everyone is watching something, the main living area also has a 75-inch television with a home audio system. Outside is a gorgeous, private swimming pool and Jacuzzi that looks out over the golf course. There are some floating lounges as well as plenty of space to sit around the side of the pool. There is even a covered terrace should you want to escape the direct sunlight or even the odd Florida shower.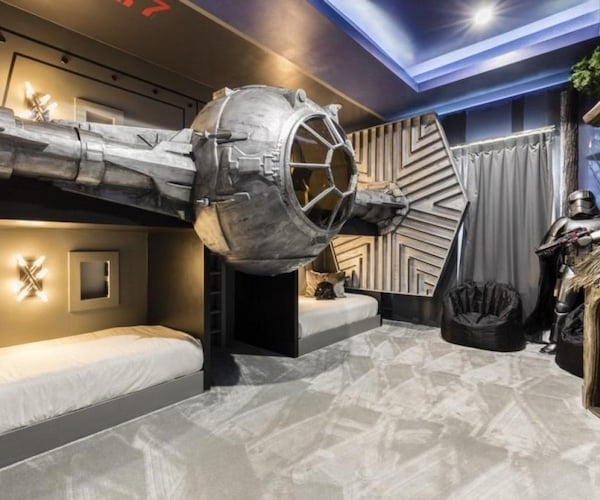 When it comes to entertainment, you may struggle to get the kids out of the villa and into the theme parks because there is just so much to do here. The property boasts a stunning cinema, room, arcade, and separate games room stocked with a PS4 and Xbox One. You could also head to the gym or relax with a drink in one of the three bars. One of which features a stunning 4K television and has been dubbed the sports bar. In the Nemo room, there is a slide and rock climbing wall, and also a pool table and poker table in the adult entertainment areas. Finally, the whole party can enjoy a movie screening which includes three-layer seating and 12 recliners. If you are still struggling to find a television to watch your favourite show on, there are six more outside, of course!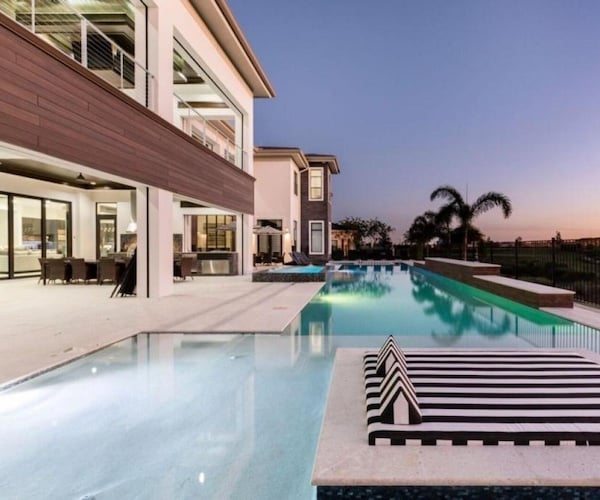 IMPORTANT NOTICE:
If you are reading this article anywhere other than on A Luxury Travel Blog, then the chances are that this content has been stolen without permission.
Please make a note of the web address above and contact A Luxury Travel Blog to advise them of this issue.
Thank you for your help in combatting content theft.
This stunning 9-bedroom villa (Reunion Resort)
This stunning property could be the perfect base for anyone who enjoys a round of golf. Not only does it look out over one of the PGA golf courses found on the Reunion resort, but there is also a golf simulator and putting green in the villa. You will also find a home gym, pool table, Foosball, and ping-pong set up, as well as a secret playroom, but you've got to find that one first. Outside, there are also some amazing facilities, including an Infiniti spa, which can be heated if you prefer. There is a swim-up bar, cabana, fire pit, putting green, badminton, and croquet set up. The outdoor pool is beautiful, and there are two palm tree features located within the water space. Take a dip to cool off, or simply lounge in one of the many poolside seating areas with a drink and look out over the golf course.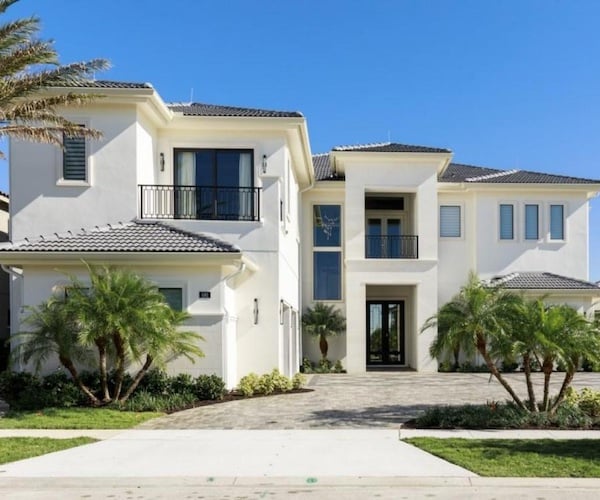 This is another excellent choice for larger family groups, as there are nine bedrooms sleeping up to 23 guests. Two of the rooms are designed with younger family members in mind, one of which features a Pocahontas theme, with Native American Indian style decoration and the other comes with a life-size statue of Rocket Raccoon in a nod to the Guardians of the Galaxy. Each children's themed room can sleep four in a variety of bunk beds. The adults should have no problem agreeing on who has which room because all of them are gorgeous boutique-style, stacked with facilities like walk-in showers and tubs.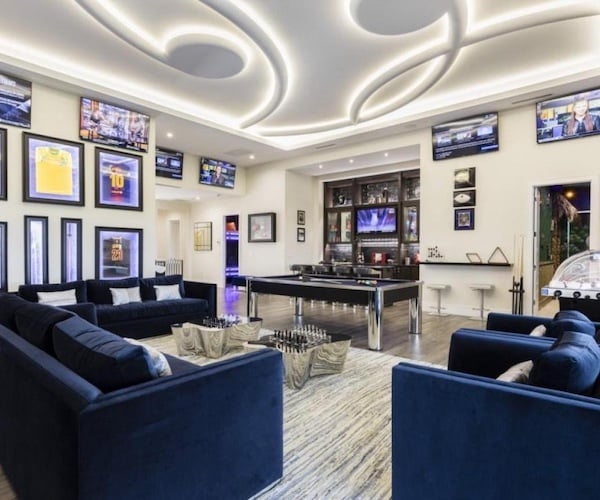 You can take advantage of the gym facilities, which include a Nordic track, treadmill, and exercise bike. The arcade video games are well stocked, so expect the children to disappear for hours. When you do head out to one of the theme parks, there are plenty of shuttle buses to get you where you need to go, and the Reunion resort also has a range of excellent facilities, including a lazy river and water park, if you don't want to venture offsite for the day.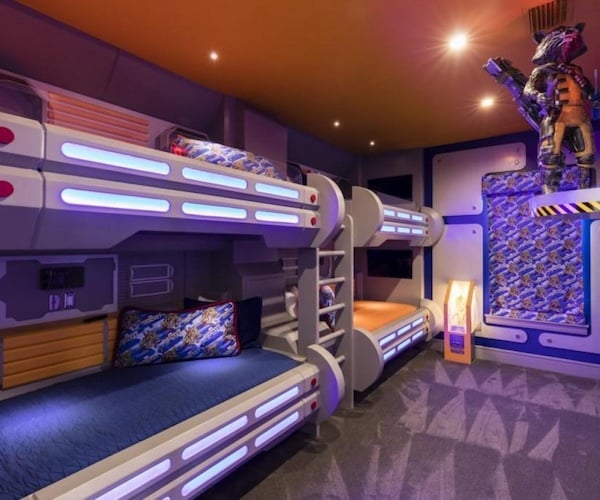 Kerrie Potts is CEO at Exclusive Private Villas Limited. Exclusive Private Villas offers exquisite, handpicked luxury villas around the world.
If you would like to be a guest blogger on A Luxury Travel Blog in order to raise your profile, please contact us.