After having to postpone our trip several times, it finally happened last November. Traveling back to Sri Lanka! A trip I had looked forward to for what seems like ages. It had been more than five years since I was last there, and I am very curious to see how things stand after all the problems of the past few years.
Flora and fauna
The country is still pretty empty in November in terms of tourists. That has its advantages such as in national parks, where you sometimes feel you are the only visitor. I visit the lesser-known Wilpattu and the usually very busy Yala National Park. At very close range I see a bear and in both parks I spot a leopard several times. That the big crowds are absent is a bonus during the game drives. I see only a few other vehicles and often we are the only ones to spot a particular animal, which makes me feel extra privileged. Elephants also show up, although it is difficult to see them because of the heavy rainfall. Migratory birds have also already arrived in Sri Lanka in large numbers. Sri Lanka is and always has been a great destination for nature lovers with a large number of national parks and a great diversity of flora and fauna.
Spiritual Anuradhapura
I experience the spirituality of the country during a visit to Anuradhapura, the site of the sacred bodhi tree. I am here on the weekend, as are large groups of families, whole villages brought in buses, everyone dressed in white. Offerings of brightly colored flowers, food as well as colored slippers and monk's robes are on the tables. The people find togetherness and strength in religion, and this is abundantly clear in such a place. It makes me feel very special.
From Hatton to Haputale
Last time it was not possible to travel by train; now I am traveling the route from Hatton to Haputale. Beautiful landscapes glide past me. I see tea plantations, waterfalls and picturesque villages. At altitude, it seems like we are driving through the clouds. What an experience! And the fact that the train doors remain open during the ride makes it extra exciting!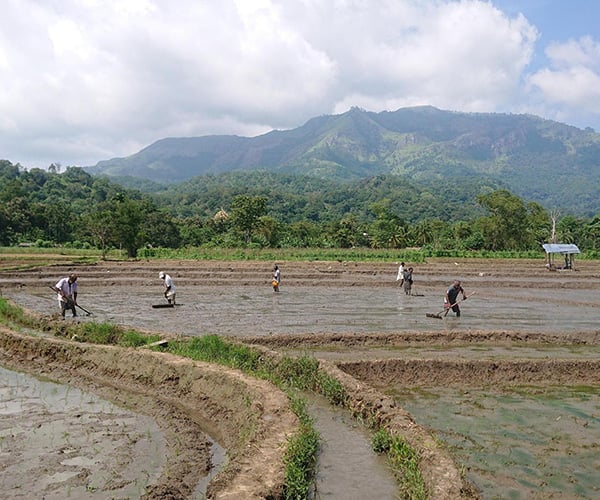 The production of tea
Special was the visit to a tea picking village. No tourists have been here for years, and my presence is announced by small children from afar. Some of them are seeing foreigners for the first time in their lives. The school-age children are only too happy to practice their English. And as it turns out, here too they know the soccer player Ronaldo, although they themselves are more into cricket that is played here into the evening hours. While visiting a tea factory I experience that tasting tea is actually just like tasting wine. I never realized before that the production of tea is a 24-hour process. Deep respect for the women who have to pick 20 kilograms of tea leaves a day and do so in all weathers and as now with often leeches between their toes due to the wet weather.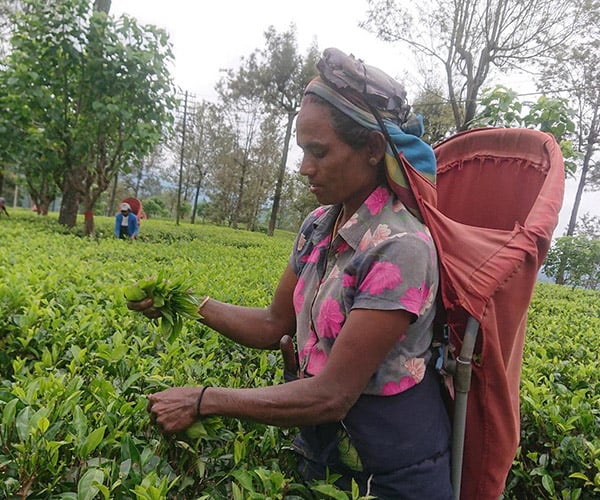 IMPORTANT NOTICE:
If you are reading this article anywhere other than on A Luxury Travel Blog, then the chances are that this content has been stolen without permission.
Please make a note of the web address above and contact A Luxury Travel Blog to advise them of this issue.
Thank you for your help in combatting content theft.
Galle Fort, the Temple of Tooth and Tangalle
And how beautiful are Galle Fort and the Temple of the Tooth again. Not to mention the beautiful beaches and swaying palm trees in Tangalle. After all, the beach is never far away in Sri Lanka with such a long coastline. And again, no masses of travelers yet.
Hotels, lodges and tea bungalows
Then the amazing boutique hotels the country is rich in. You can find them in all shapes and sizes. The special safari camps with their personal service and perfect nature guides and the top luxury hotels, lodges and tea bungalows where comfort and personal service are paramount and where you lack nothing during the trip. A suitable form of accommodation can be found for every party in Sri Lanka.
Welcome back!
During the trip, it is abundantly clear that the country and people miss the travelers. Travelers who vacation here enjoy the diversity of Sri Lanka, its beautiful nature, interesting culture and history and, of course, its delicious food and beaches. I enjoy all those parts that make visiting this country just so special. Before the trip, I had asked myself this question: is Sri Lanka ready to host travelers again? To that I can answer a resounding yes. You can travel again to this fine vacation destination with peace of mind. Welcome back to Sri Lanka!
Jozef Verbruggen is Director and Owner of Untamed Travelling. Untamed Travelling is a travel designer that specializes in high-end bespoke travel experiences around the globe.
If you would like to be a guest blogger on A Luxury Travel Blog in order to raise your profile, please contact us.