Sri Lankan cuisine has a rich and varied history with a wide range of culinary influences. This island nation which is rich in spices, dates back more than 2500 years when it was discovered by the Portugese. The Dutch and the British followed and they all played a part in the Sri Lanka we know today. The proximity to southern India has of course led to some similarities in their respective cuisines, but anyone who says that Sri Lankan food is "the same as Indian" is oh so very wrong. They've obviously never eaten a Sri Lankan 'rice and curry' which is a dish that sounds so simple, but is a culinary journey in itself. They've also never enjoyed the delights from come from a freshly prepared 'kotu roti', or a platter of steaming string hoppers with pol sambal for breakfast, or even a sweet and delicious serving of creamy, coconut custard called 'wattalapan'. Sri Lankan cuisine is very veggie friendly and with a few small adaptations can be incredibly vegan friendly too. Each of the dishes we've mentioned above can be created vegan as can many, many more unique and ubiquitous Sri Lankan culinary creations.
The trio of resorts we've featured below are each perfectly suited to cater for vegan guests, with a full understanding of vegan cuisine and a team of chefs that will go above and beyond to take you on a Sri Lankan plant based culinary adventure. The first one of our chosen vegan friendly luxury resorts in Sri Lanka leads the way and rightly so, as they serve food that is 100% vegetarian, in fact nearly all of their delicious creations are actually vegan, or very easily adapted to be vegan.
Jetwing Ayurveda Pavilions
Just a short distance from the bustling beach town of Negombo famed for its golden sand beach, is a vegan haven where wellness, relaxation and nutrition are ever present. As the name suggests, Jetwing Ayurveda Pavilions boasts menus, activities, treatments and medicine that are all influenced and inspired by ancient Ayurvedic principles, making it the perfect place to recharge and reenergise. Trust us when we say that we really didn't want to leave this supremely vegan friendly hotel in the heart of Negombo, we loved our stay and will return for sure.
Your Ayurvedic culinary experience will be nothing short of unique. After an Ayurvedic consultation upon arrival, the executive chef under guidance from the doctor will create a plant based breakfast, lunch and dinner based on your dosha. According to Ayurvedic medicine, a balanced dosha leads to good health, and this can be achieved in numerous ways including diet. You can expect flavourful, creative, nutritious and beautifully presented food at each and every meal, this truly is vegan heaven and you're going to love it.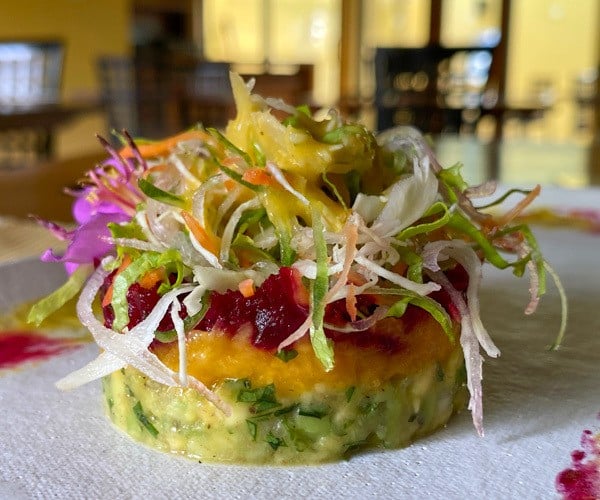 Jetwing Lighthouse
Situated on the outskirts of Galle, with far reaching and ever changing Indian Ocean vistas, Jetwing Lighthouse is an iconic luxury hotel designed by the visionary Sri Lankan architect, Geoffrey Bawa. Boasting multiple restaurants to choose from, each of which can happily cater for veggie and vegan guests, this provides an excellent option for anyone visiting this unique corner of Sri Lanka. During your stay you can enjoy the ocean views, the duo of pools, the relaxing spa and also the warm welcome from a staff team who will make you feel like part of their extended family.
With a selection of vegan dishes on the menus at Jetwing Lighthouse and a staff team who are happy to adapt other vegetarian dishes, vegan food loving guests are in for a treat during their stay. Prepare for stacks of white rice or red rice string hoppers with kiri hodi for breakfast, and devour the traditional and plentiful Sri Lankan 'rice & curry' for lunch. Select from various Sri Lankan and pan-Asian dishes for dinner, or if your craving a slice of Italy, why not order one of the two vegan pizzas that are available from the the menu at Lorenzo's Pizza Bar?
IMPORTANT NOTICE:
If you are reading this article anywhere other than on A Luxury Travel Blog, then the chances are that this content has been stolen without permission.
Please make a note of the web address above and contact A Luxury Travel Blog to advise them of this issue.
Thank you for your help in combatting content theft.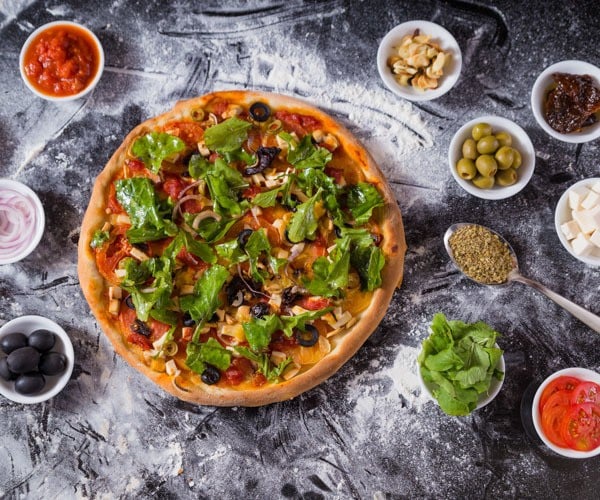 Jetwing Yala
Jetwing Yala certainly offers 'location, location, location' being both just a short drive from Yala National Park and next to the Indian Ocean, whilst at the same time being set within 38 acres of pristine grounds which offer direct beach access. This is one seriously sustainable hotel with a multitude of planet saving initiatives in place. With such an environmentally sensitive location, it's refreshing to see Jetwing Yala respecting and protecting the environment. Although it's no surprise as Jetwing Hotels are at the forefront of sustainable and responsible tourism in Sri Lanka. For the vegan food loving traveller they've certainly got you covered too, with the talented, creative and friendly chef and his team happy to take you on a plant based culinary journey during your stay.
An extensive and exciting array of vegan food awaits you at Jetwing Yala. Thoughtfully created and beautifully plated plant based food is the norm at Jetwing Yala, which combined with the stunning location will make for the perfect vegan luxury travel experience. You can even request specially created vegan set menus for both lunch and dinner if there's nothing on the a la carte menu that takes your fancy. Make sure to order the traditional Sri Lankan 'rice & curry' at least once during your stay and be prepared to be amazed by the bountiful selection of flavour packed curries that we are sure will make you smile.
Vegan Sri Lanka is truly alive and kicking, making it the perfect destination for vegan travel lovers. There's so much more to see, so much more to experience, and so much more to eat which means that we're already planning our return to this fantastic island nation. Thank you once again Sri Lanka for being the perfect host!
Paul Eyers is Founder of Vegan Food Quest. Vegan Food Quest have become luxury vegan travel specialists as they continue to find, eat and write about the best vegan food in the world.
If you would like to be a guest blogger on A Luxury Travel Blog in order to raise your profile, please contact us.