Trust us when we say that Siem Reap is not just about the remarkable temples of Angkor; it truly has much, much more to offer. Having called Siem Reap home for more than eight years we feel well qualified to direct you to a selection of unique experiences that will certainly leave you impressed. If we could give one piece of advice to anyone planning a trip to Siem Reap, it would be to extend your stay and dig a little deeper. This will not only give you more time to explore the incredible Angkor Wat but also many of the other temple complexes that make up Angkor Archeological Park. On top of this you'll get to enjoy some pretty unique experiences that are definitely not to be missed.
Take to the skies with Cambodia Balloon Adventures
Cambodia Balloon Adventures offer a brand new and unique experience in the countryside surrounding Siem Reap. They are the first fully licensed balloon operator to take to the skies in Cambodia meaning that visitors to Siem Reap can now enjoy a unique perspective of life in the authentic Cambodian countryside. With daily flights from a selection of carefully selected locations and both sunset and sunrise departures, you can take your flight at a time that fits your schedule, ensuring you make the very most of your time in Siem Reap.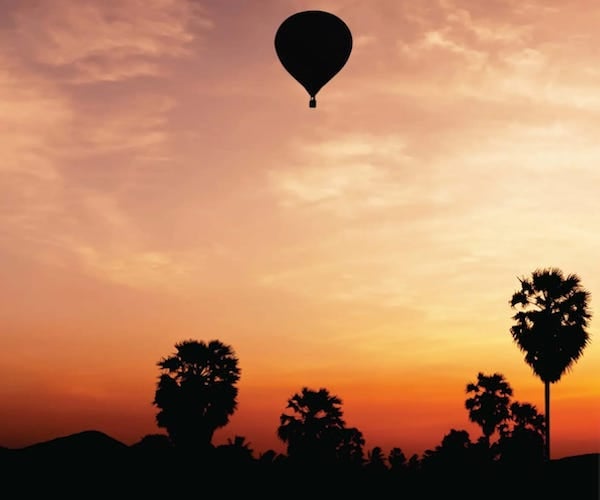 Operating from 1st December to 31st March, be sure to book in advance for this 'hot ticket' experience in Siem Reap. As you soar above the villages, rice paddies and jungles below, you may even catch a glimpse of one of the remarkable temple complexes that dot the Cambodian countryside. Look out for Pre Rup, built in the 10th century and dedicated to the Hindu god Shiva. The opportunity to be able to view this from above is a real treat and truly unique.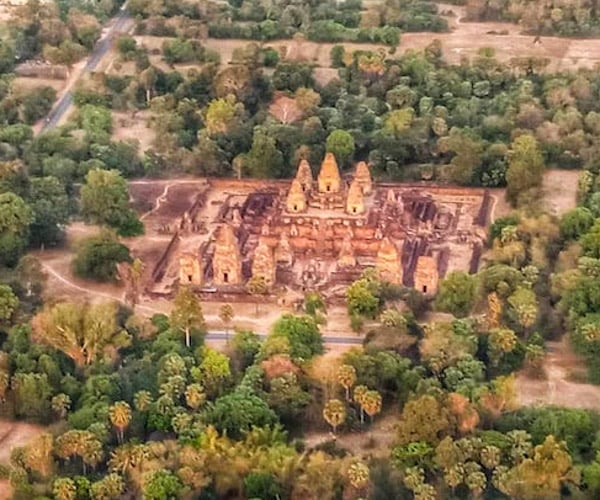 Experiential dining at Park Hyatt Siem Reap
Right in the centre of town, the Park Hyatt Siem Reap offers unique dining experiences that showcase Executive Chef Pisith Theam's love of working with organic, locally sourced ingredients. Sit back and be mesmerised by the traditional Apsara Dance Show where highly trained dancers take you through a journey of myths and legends, an artistic practice which is central to Cambodian history and culture. You'll eat course after course of exceptional, elevated and traditional Khmer cuisine created by Chef Pisith, one of Cambodia's most experienced culinary experts.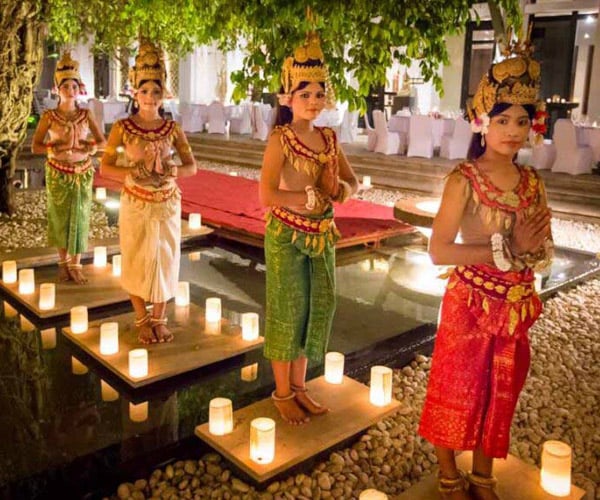 For a modern and theatrical twist on dinnertime, Park Hyatt Siem Reap is currently hosting Le Petit Chef. This sees five courses of delicious food presented through a continuous 3D-projected story, complete with themed music, as the world's smallest chef plays out his adventurous virtual cooking right on your table top. The wonderful inclusion of Chef Pisith's added Khmer theatrics make this a truly unique and not-to-be-missed culinary experience.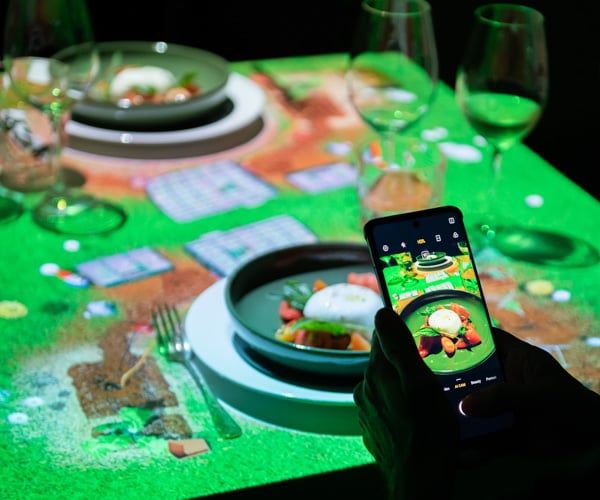 Responsible elephant tourism at Cambodia Wildlife Sanctuary
Cambodia is home to a number of wildlife sanctuaries, protected areas designated for the conservation of wildlife and their habitats. Sadly many of these are under threat from illegal logging and wildlife poaching, despite their 'protected' status so this visiting and supporting this unique experience in Siem Reap is even more important.  Located in the Cambodian countryside 100km north of Siem Reap you will find Cambodia Wildlife Sanctuary, home to many rescued animals including three adult elephants. One of these magnificent creatures is Kaavan, a male elephant who was held in captivity at Islamabad Zoo in Pakistan for over 35 years. Relocated to his new home in 2020, he can now enjoy the rest of his years being looked after and respected by the excellent team at Cambodia Wildlife Sanctuary.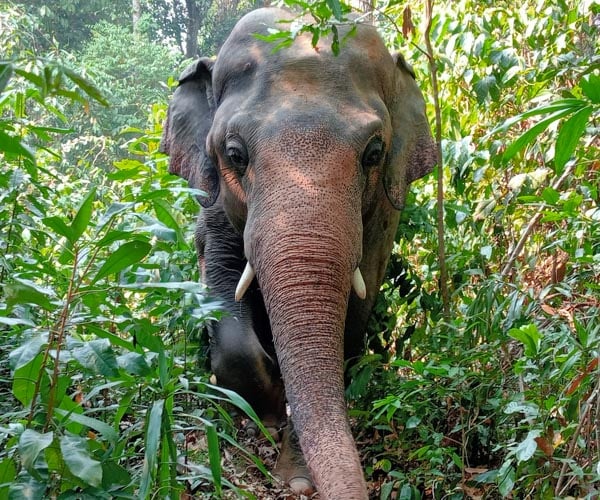 Spanning 32,000 acres, there is plenty of space for Kaavan and two female elephants. Sarai-Mia (pictured below) and Di-Ploh also call this protected area home alongside many native and endangered species. You might spot deer, giant ibis, cranes, monkeys, gibbons and several turtle species. Spending time here is a truly unique experience that will go some way to supporting this worthy project and ensuring the environment is protected.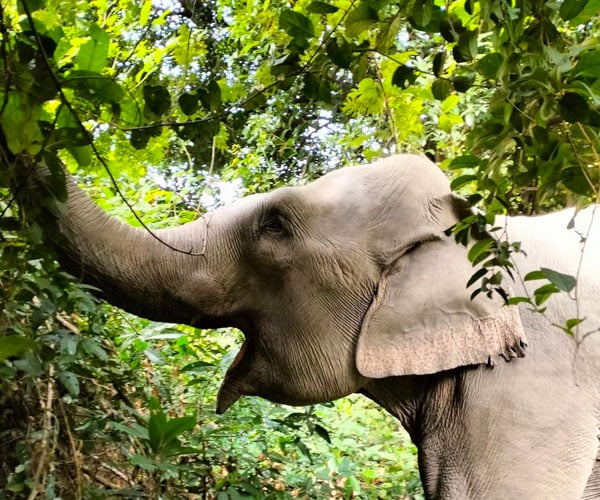 IMPORTANT NOTICE:
If you are reading this article anywhere other than on A Luxury Travel Blog, then the chances are that this content has been stolen without permission.
Please make a note of the web address above and contact A Luxury Travel Blog to advise them of this issue.
Thank you for your help in combatting content theft.
Authentic farm to table dining at Lum Orng
Take a trip down a dusty red dirt road tucked away in the backstreets of Siem Reap and you'll find yourself at Lum Orng, Siem Reap's very own farm to table dining experience. Located across the road from Lum Orng's cooking school and farm, the restaurant is housed in a converted Khmer wooden house, lit by chandeliers and with draped floor to ceiling glass windows to invite the garden views inside.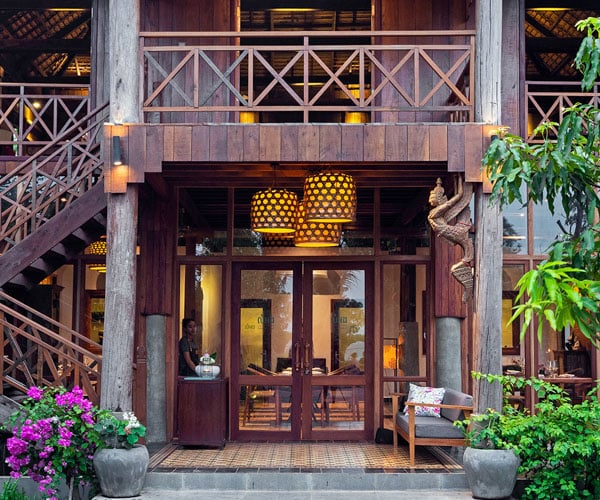 Chef Sothea create crafts what he calls 'New Mekong Cuisine' which celebrates Khmer food and aims to preserve the culinary traditions of Cambodia, many of which were lost when the brutal Khmer Rouge regime seized power in the late 1970's. Ingredients for the multi-course tasting menus are fresh from the farm or sourced from other local or regional suppliers. Chef Sothea's modern take on traditional Khmer cuisine takes you on a delicious culinary journey where the flavours, culture and produce of this wonderful country are celebrated with every bite.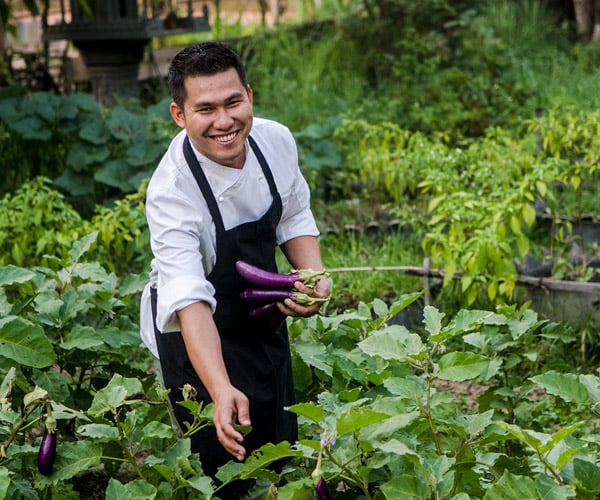 Siem Reap is an incredible destination in an enchanting country and is rightly considered to be one of the most popular tourist destinations on the planet. A firm favourite on bucket lists around the globe and commonly written about in travel publications, it's often only a visit to the temples that is featured and not much else. However Siem Reap has so much more to offer. Our four unique experiences, plus the many wonderful hotels, cool cafes and memorable restaurants in town will ensure that your extended stay will be one that you will remember for a very long time.
Paul Eyers is Founder of Vegan Food Quest. Vegan Food Quest have become luxury vegan travel specialists as they continue to find, eat and write about the best vegan food in the world.
If you would like to be a guest blogger on A Luxury Travel Blog in order to raise your profile, please contact us.