In the bustling heart of New South Wales lies a treasure trove of luxury retreats, each promising an escape into the lap of luxury and tranquillity. If you're looking for a gorgeous escape from the daily grind, these stylish accommodations close to Sydney offer private havens where you can disconnect and decompress. From the lush vineyards of Hunter Valley to the breathtaking heights of the Blue Mountains, these destinations offer unparalleled experiences for those who appreciate the finer things in life.
Kyah Boutique Hotel: Boho chic retreat
For a Boho chic escape in the Blue Mountains, Kyah Boutique Hotel is your perfect destination. Minimalist yet playful, this hotel exudes classic Hollywood glamour at every turn. The hotel's three wings house 46 rooms, ensuring a quiet and relaxed atmosphere throughout your stay. What we love about this little hideaway is the soft pastel interiors that immediately put us in a state of calm.
Don't miss the opportunity to savour the hyper-local seasonal menu at Blaq, which showcases the freshest produce from the Blue Mountains. A stay at Kyah Boutique Hotel is an invitation to unwind amidst soft pastels and timeless elegance.
Spicers Vineyard Estate: Where luxury meets nature
Nestled amidst the fertile expanse of the Hunter Valley, Spicers Vineyards Estate stands as a testament to the perfect fusion of luxury and nature. This serene haven boasts 12 opulent suites, each adorned with its own inviting fireplace. The King Spa Rooms, Luxury Spa Rooms, and Vineyards House offer sumptuous accommodations, all cradled within the verdant embrace of an 8-acre vineyard.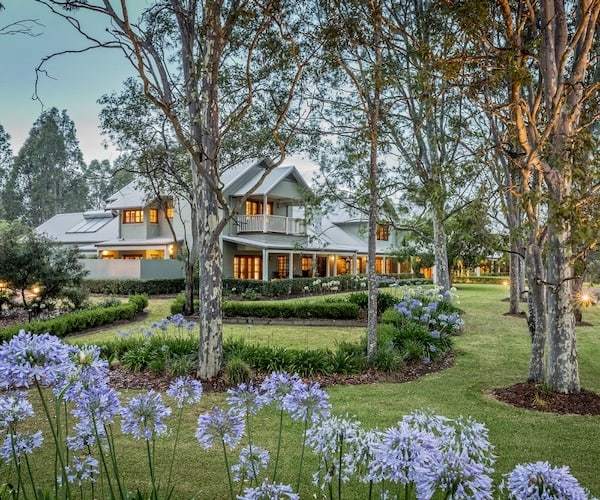 For culinary enthusiasts, Restaurant Botanica, with its panoramic views of the private vineyard, presents a delectable symphony of flavours. Here, you can savour every bite amidst the backdrop of the vines from which your meal is sourced.And for those in pursuit of the ultimate relaxation, Spa Anise on site is ready to pamper your senses with a host of rejuvenating treatments. A hot stone massage or a full-body treatment here can turn your weekend getaway into a truly indulgent experience.
Cedars Mount View: An Oasis of Romance
Sometimes, we just seek a place where it's the grown-ups, right? For those seeking an adults-only retreat that sets the mood for romance, Cedars Mount View is your sanctuary. Located in the picturesque Mount View region of Hunter Valley, this luxurious escape is just a scenic drive away from the region's renowned wineries and restaurants. Even getting there is a pleasure in itself. When you arrive, you can soak in the tranquillity of your lavishly appointed villa while enjoying expansive views of the nearby trees and bushes. Whether you choose to relax in the deep-soaking tub or just sink in the comfy bed, here you'll have a place for romantic indulgence.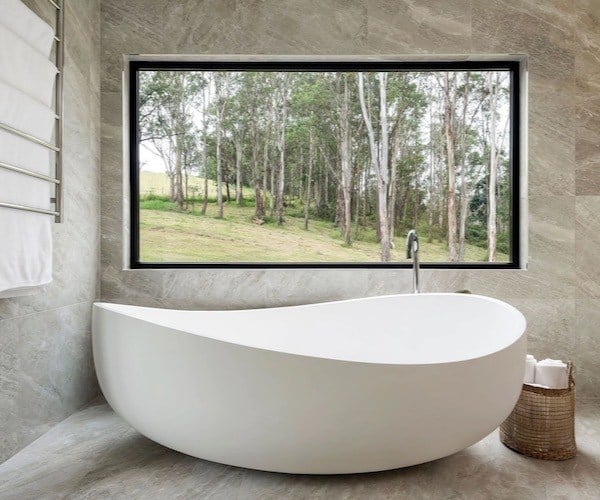 Cedars has established itself as a symbol of romantic getaways and special occasions. Here, you can select from a range of indulgence packages, ideal for celebrating with a loved one in the seclusion of your own private villa, offering sweeping mountain views. Just some of the foodie offers at Cedars include the dessert platter, cheese platter, chocolate platter, BBQ hamper, and picnic hamper—an array of options for your different moods.
Chalets at Blackheath: Where nature beckons
If you love mountain escapes, we've got another one we think you're going to love. Perched on the majestic Blue Mountains, Chalets at Blackheath offer an intimate communion with nature while offering you an intimate contemporary space. The freestanding chalets are discreetly spread out across the vast resort which guarantees privacy amidst the rugged sandstone formations and eucalyptus forests.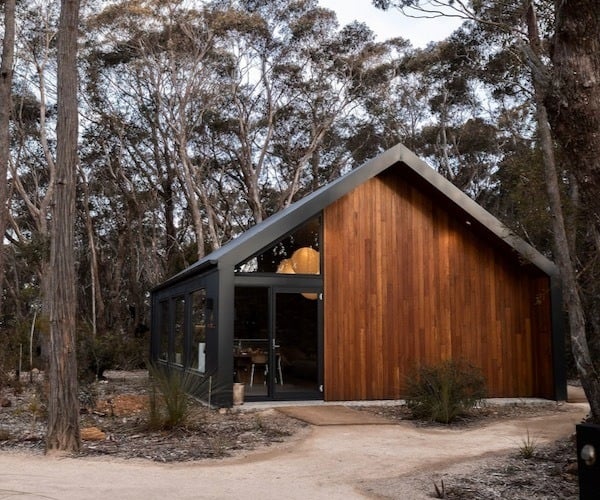 The chalets, with their almost cubist design, invite you to immerse yourself in the natural beauty surrounding them. Stone interiors blend harmoniously with warm wooden floors and metal accents. Furnished decks allow you to take in the sights and sounds, and are perfect for a romantic night of stargazing. Bright and airy during the day, these self-contained chalets offer maximum privacy and the convenience of personalized concierge service. You'll feel like you're far away from the world while still having everything you need at the tip of your fingers.
Crystalbrook Kingsley: Newcastle's crown jewel
Crystalbrook Kingsley, Newcastle's first five-star luxury hotel, welcomes guests with sophistication and cultural connection. With its sustainable ethos and rich historical context, Kingsley promises a unique stay that competes with hotels and resorts worldwide. Bringing luxury to Newcastle's CBD, Crystalbrook Kingsley treats its guests to a marriage of the old and new with curated interiors that reflect the locale's culture and charm.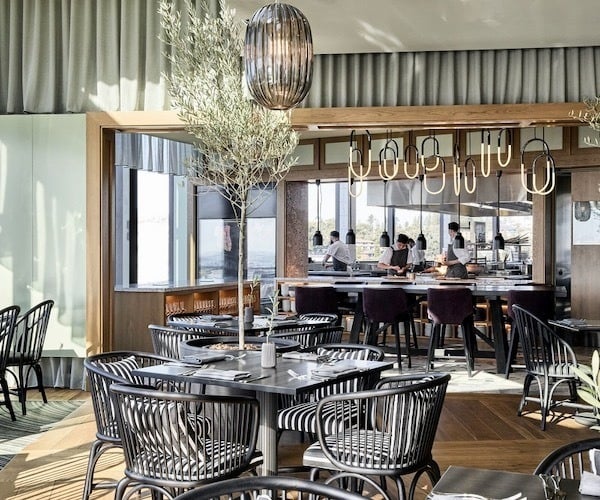 On-site, you can indulge at the chic Roundhouse Restaurant, Ms Mary's—an elegant cocktail lounge, and Romberg's Bar, a rooftop bar that spoils guests with breathtaking views of the city. Saying "cheers" just feels so much cooler with the views at the top, we swear. Crystalbrook Kingsley is a destination where modern luxury meets Newcastle's vibrant culture, and is a wonderful choice for those who love the city vibe but are going for a more toned-down and relaxed atmosphere.
Pullman Magenta Shores: Coastal Elegance
Just an hour and a half away from Sydney, Pullman Magenta Shores Resort draws us in with its coastal elegance. This Central Coast gem boasts a golf course, tennis court, gym, pool, day spa, and an enviable beachfront location. If you love that laid-back seaside lifestyle, you're going to enjoy the atmosphere at this escape.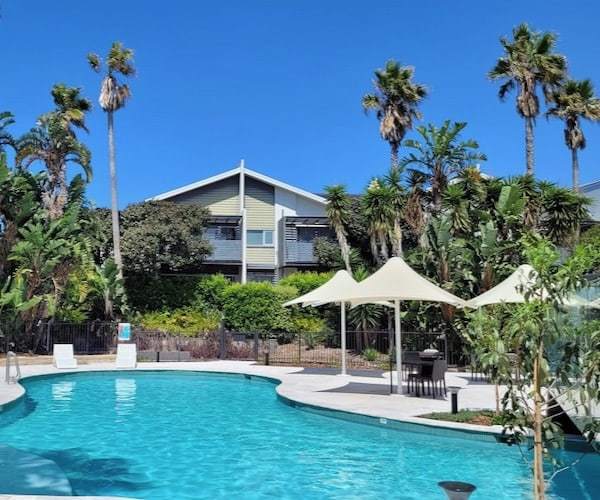 Whether you prefer a studio guest room or a self-contained 1, 2, or 3-bedroom apartment, this resort offers accommodations tailored to your needs. This makes it a wonderful choice if you're on a little break with the family or friends as you'll each have a spot to unwind and enjoy the good times. On-site, you'll have access to a number of al fresco and indoor dining options where you can enjoy sumptuous meals. Of course, with in-room dining as an option, Pullman Magenta Shores makes it even harder to get out of bed and just really gets you in that holiday state of mind.
Osborn House: A Southern Highlands Jewel
If you're looking for an intimate retreat with a sprinkling of eccentric design, a bespoke experience awaits amidst the rolling hills and lush gardens of the Southern Highlands. Osborn House is a boutique hotel with 22 distinct rooms, a day spa, pool, sauna, steam room, and on-site restaurants. Here, you can take a step back and immerse yourself in the surrounding nature while enjoying luxurious accommodations and a personalized experience.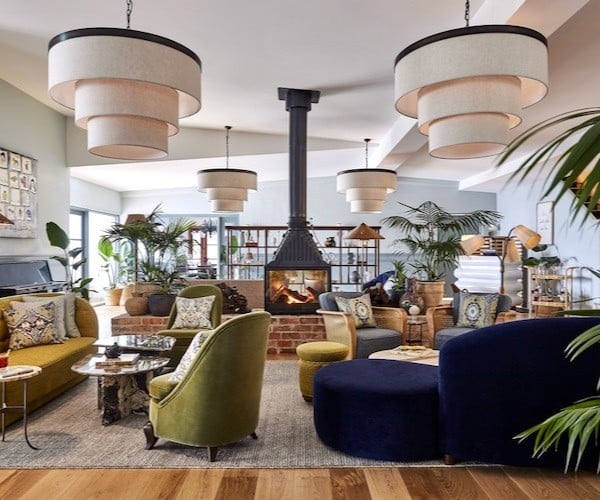 During your stay, you can feast on simple yet refined dishes that will surprise your tastebuds. Enjoy casual dining at George's with its seasonal menu and bespoke interiors, or up the ante at Dinah's—an elegant and formal dining space where rustic favourites are turned into culinary masterpieces by the in-house chef. Overall, an eye-catching sanctuary for those seeking a relaxing getaway with pops of life and colour.
Whether you're savouring the wines of Hunter Valley, embracing the serenity of the Blue Mountains, or seeking coastal bliss on the Central Coast, these retreats will welcome you with the promise of an unforgettable experience.