Saint Catherine, which is often spelled St. Katrine, is a city in Egypt's South Sinai Governorate. It is located at a height of 1,586 metres (5,203 feet) on the borders of the El Tor Mountains, 120 kilometres (75 miles) from Nuweiba, and at the base of Mount Sinai and Saint Catherine's Monastery. Its population was 4,603 in 1994. The Saint Catherine region was designated a UNESCO world heritage site in 2002.
Saint Catherine's weather
According to the climatic classification system Köppen-Geiger, it has a desert climate (BWk). Of all the cities in Egypt, it has the coldest nights. It has very low humidity. The town is surrounded by the tallest mountain ranges in Egypt, and other smaller valleys connect the basin to the highlands in all directions. The township is 1,600 metres above sea level (5,200 ft).
The town of Saint Catherine's average temperatures are reported by many sources. The town's high altitude and the surrounding high mountain ranges create a comfortable atmosphere with cool summer nights and fantastic spring weather. Even though the region's winter days are mostly quiet, on occasion the region might experience freezing cold nights, necessitating the need to occasionally heat buildings and public areas. Along with Nekhel and numerous other locations, particularly in the mountainous Sinai, Saint Catherine is regarded as one of Egypt's coldest cities. Saint Catherine experiences occasional snowfalls in December, January, and February. Snow has, nevertheless, occurred in early spring and late autumn.
Monastery of Saint Catherine
There are numerous churches, monasteries, and holy sites nearby as well as a short distance away from the Monastery of St. Catherine, Mount Sinai, and Jebel Safsafa, among other popular religious locations.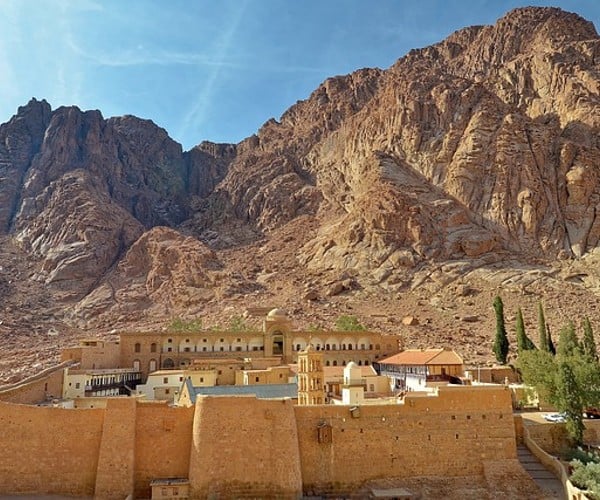 Christians believe that the Chapel of St. Catherine is located on Mount Katherine's summit, where angels allegedly placed the saint's body from Alexandria. The saint, who was killed for her conversion to Christianity, was born Dorothea in 294 AD and received her education in pagan institutions. Her body vanished, but three centuries later, monks led by a dream discovered it on a mountain. It was transported down and buried in the monastery known in the 11th century as the Monastery of St Catherine.
Since its founding in the fourth century till the present, the Monastery of St. Catherine has been a working monastery. Second only to the Vatican, it is home to one of the most revered and essential libraries in history. The region, which has religious significance to Jews, Muslims, and Christians, draws around 100,000 tourists yearly, with more expected yearly. Even if the battle to restrict access and visitation times hasn't done much to protect the monastery, it has shielded political turbulence.
Saint Catherine hiking trails and hiking in Sinai
One of the best things to do in Egypt is go hiking, especially in the Sinai and the Saint Catherine climb. The area is a national park, home to Mount Moses, the tallest mountain in Egypt, the St. Catherine monastery, and Wadi El Arbeen. A road links Catherine, a small Bedouin settlement wedged between two mountains, with the Nweuiba, Taba, and Sharm El Shekih roads. With more than 7 well-liked paths and many more off-the-beaten-path locations, Saint Catherine is home to the best hiking trails in Egypt.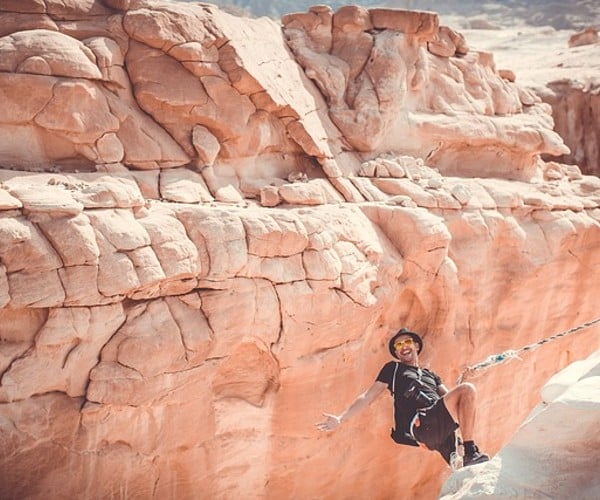 Since St. Catherine Hike is Egypt's highest point, it is always the first to be reached when hiking there. Mount Moses, Mount Abbas, Red Mountain, and El Gelt Al Azraq are next reached. Inside the monastery, there is a mosque, a monastery, and a story about Moses. Even the routes that lead to the mountain peaks themselves are beautiful. Most of the pathways are rivers with dried-up water (mamarat seil).
IMPORTANT NOTICE:
If you are reading this article anywhere other than on A Luxury Travel Blog, then the chances are that this content has been stolen without permission.
Please make a note of the web address above and contact A Luxury Travel Blog to advise them of this issue.
Thank you for your help in combatting content theft.
It's crucial to hike in a Jalabeya if you're new to hiking in order to keep the right step size and achieve a greater level of endurance. Even in hot weather, you should cover your entire body with light-colored clothing to let the air flow and act as your own personal air conditioner.
The best headwear is straw because it allows your head to breathe while shielding your skin from intense sunlight.
For the first few hours of your trip, it's crucial to choose a slow-rising slope so that you may warm up your body and muscles before climbing to the mountain's summit. Don't immediately start down the steep slopes. Before your hike, get at least 8 hours of sleep. Even if you do not feel thirsty, drink. Your body requires enough water to function, yet the breeze may make you feel like you don't want to drink. It's actually more pleasant to sleep on rocks than on a mattress.
Sherif Khalil is Owner of Dunes & Beyond. Dunes & Beyond offers luxury tours, Nile cruises and desert safaris in Egypt.
If you would like to be a guest blogger on A Luxury Travel Blog in order to raise your profile, please contact us.