Built into dark grey volcanic rock at Kópavogur, Sky Lagoon is just a 15-minute drive from Reykjavik city centre. This all-new Icelandic spa opened in 2021 and is home to a 70-metre infinity-edged geothermal pool with stunning views of the North Atlantic as well as access to a unique seven-step ritual experience.
It's an opportunity to sample Iceland's traditional bathing culture combined with a contemporary and luxurious thermal spa experience – a gateway to feeling calm, rejuvenated and stress-free in a magical manmade lagoon.
Read on to learn more about what to expect from a visit to Sky Lagoon.
When booking, we had a choice of three different packages:
A Pure Lite package which includes:
admission to the Sky Lagoon
access to the public changing facilties
provision of a towel
A Pure Package which includes:
everything in the Pure Lite package, plus
plus one journey through the seven-step ritual
A Sky Package includes:
everything in the Pure Package, plus
private changing facilities with Sky Lagoon amenities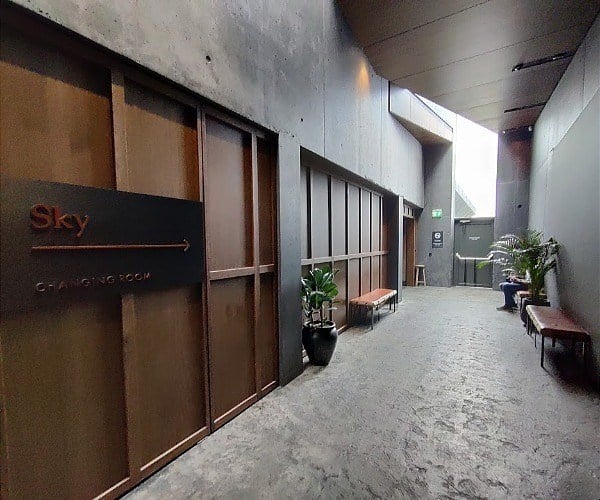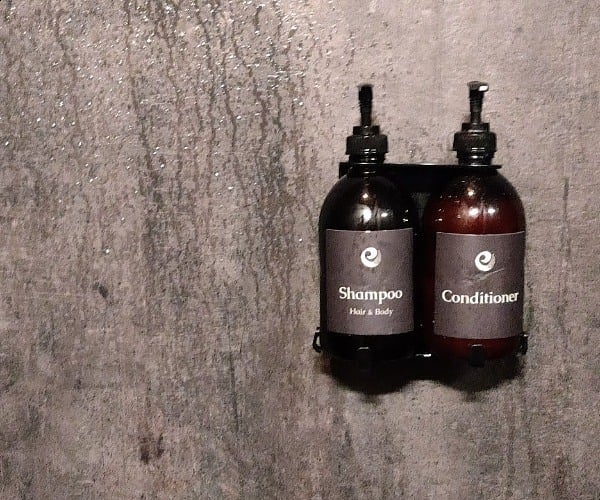 We opted for the Sky Package which comes with a private changing experience that is really lovely, more exclusive and less busy.
Once showered, we made our way through a cave-like entrance into the geothermally-heated pool, warmed to a very pleasant 38 degrees Centigrade. We could spend as long as we wanted in there, enjoying the views over the Atlantic and across to Bessastaðir, the official residence of the President of Iceland, as well as to Mount Keilir in the south-west. And, if you're really lucky, you might spot whales, too.
We were able to start the seven-step ritual whenever we wanted. In fact, we had already started it, because step 1 was to take our time in the lagoon, relaxing in its warm waters and breathing in the refreshing ocean air. Step 1 is all about our journey from the changing rooms to the pool edge, and the sense of calm that it brought us.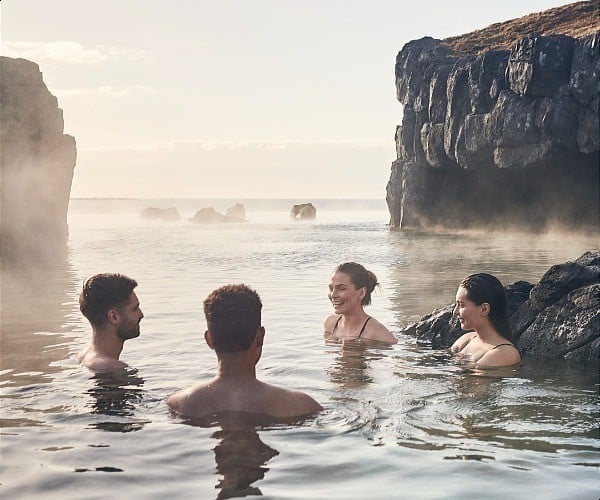 Once we were ready, we moved on to step 2 which means braving the cold plunge pool. It's not for the faint-hearted as it can be a shock to the system, but it's a crucial part of the Icelandic tradition and has a number of health benefits including being good for the immune system, as well as advantageous for decreasing blood flow and tightening the skin. It's even prove to boost happiness. Of course, it's not compulsory but an option worth considering if you've had a long day or are recovering from a long flight. If you prefer, you can simply expose yourself to the cool fresh air as you leave the geothermal waters and head indoors for the next step.
For step 3, we entered a building where the Sky Lagoon pays homage to an Icelandic turf house. These grass-roofed houses kept the Vikings warm for centuries thanks to their added insulation.
Inside is a spacious sauna – a welcome opportunity to recover from the cold awakening of the plunge pool. Step 3 entailed spending 5 or 10 minutes here, allowing the warm steam to open up our pores, remove toxins and clean our skin, all whilst enjoying a heightened sense of wellbeing and wonderful views of the Atlantic through the enormous floor-to-ceiling window ahead of us.
IMPORTANT NOTICE:
If you are reading this article anywhere other than on A Luxury Travel Blog, then the chances are that this content has been stolen without permission.
Please make a note of the web address above and contact A Luxury Travel Blog to advise them of this issue.
Thank you for your help in combatting content theft.
For step 4, we moved to another area, open to the sky above, where we experienced a refreshing cold fog-mist. It is much more tolerable than the cold plunge pool and helps to rejuvenate the skin and prepare visitors for the next step.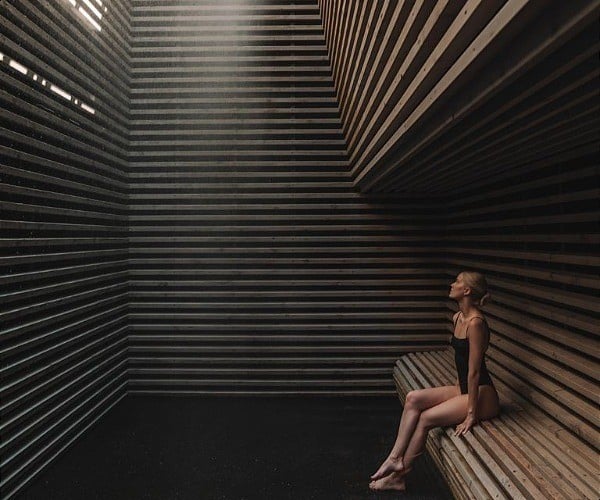 Next it was time for a re-invigorating body scrub. For step 5, we applied Sky Lagoon's lightly-scented signature Sky Body Scrub, and gently massaged it in as it exfoliated the skin and left us feeling glowing and radiant. From there, it was into the steam room, with our skin still tingling, for step 6 – which maximises the hydrating benefits of the scrub. I was genuinely surprised at how refreshed and different my skin felt at this point. This was a lovely opportunity to simply sit down and relax, breathe in the steam and feel our sinuses being cleansed.
Step 7 constitued showering, rinsing off the scrub and returning to the warmth of the lagoon. It was such a lovely experience… so soothing and re-energising, and one that of course has to be tried first-hand to be fully appreciated.
Again, we could spend as long in the lagoon as you wish. There's a swim-up bar where we got drinks whilst we bathed in the geothermal waters, comtemplated the experience and felt utterly rejuvenated from head to toe.
No children under the age of 12 years old are permitted at Sky Lagoon, so rest assured that you can enjoy the atmosphere without any screaming interruptions! And no cash is required at the bar either, since you are provided with a wristband that can be linked to your preferred payment card.
When you are in Reykjavik, make sure you visit the Sky Lagoon and try the seven steps for yourself. Follow them in sequence, take your time and you'll come feeling totally relaxed and revitalised – a sense of wellbeing like no other, all in fabulous Icelandic surroundings.
Planning a trip to Iceland yourself? You can watch a video from our trip to Iceland here. Footage from the Sky Lagoon can be seen between 6m 03 seconds to 6m 14 seconds.
Disclosure: This post is sponsored by Sky Lagoon. Our trip to Iceland was also sponsored by Helly Hansen.