Three half-timbered medieval houses and a coaching inn have combined to create the irresistibly historic Swan at Lavenham Hotel, creaking through the last six centuries in what is often described as England's finest medieval village.
The Swan Hotel features timbered beams, undulating floors, exposed brickwork, roaring fires, and a great dollop of history. Even the bar's brick flooring is ballast from ships that had once exported the town's famed woollen cloth.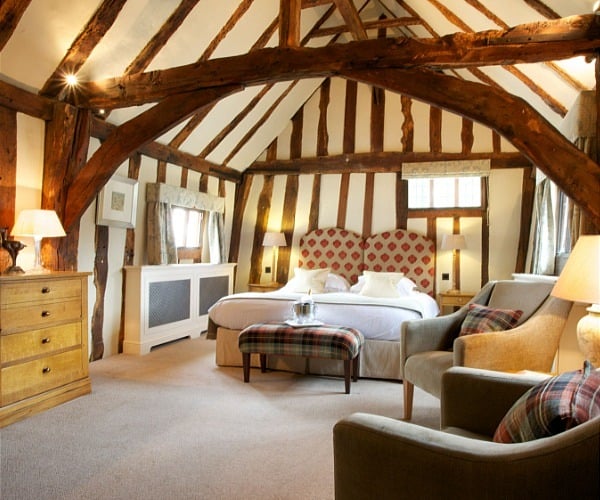 But is Lavenham a town? A market charter from 1257 confers town status, though as it covers less than a square mile an Ordnance Survey criterion classifies Lavenham as a village.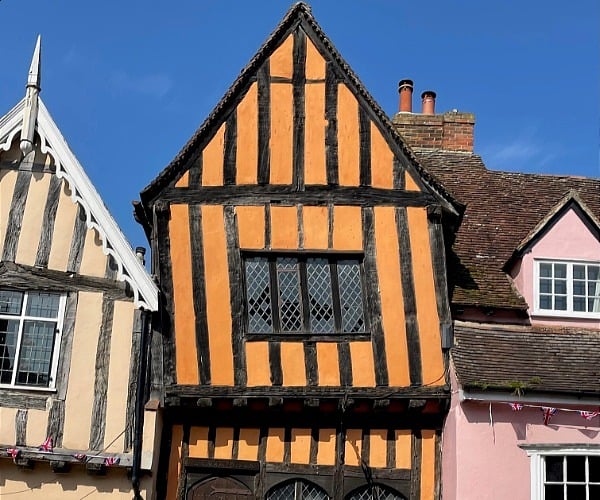 Since Lavenham's wool-rich heydays in the 15th and 16th centuries, the quiet town has remained remarkably well-preserved. There are over 300 listed buildings. Wonkily idiosyncratic, The Crooked House was probably the inspiration for the "There was a Crooked Man" nursery rhyme. No surprise then that film-set quaint Lavenham modelled as Harry Potter's birthplace in The Deathly Hallows.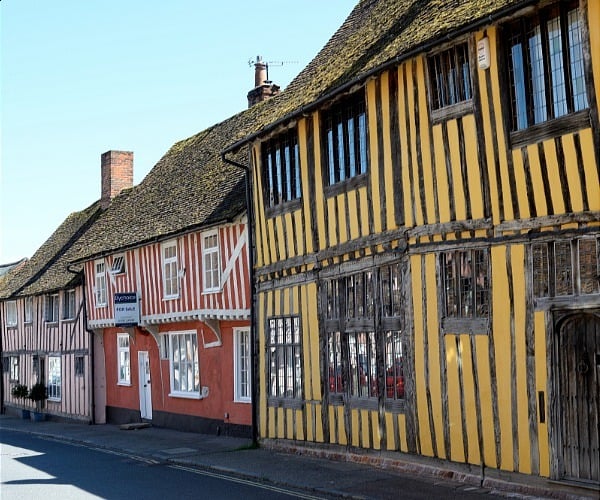 The Swan is perfectly positioned for exploring Suffolk from the Sunrise Coast, through both Constable country and Gainsborough territory, to meandering slow travel amongst Suffolk's 500 hundred medieval churches.
The welcome
Fortunately in a town of narrow medieval lanes, The Swan has two large car-parks, one code-protected from parking poachers.
After reception has issued a traditional large metal-tagged room key and checked restaurant reservations, a porter takes our luggage and guides us on a labyrinthine journey to our suite, warning us to mind our head on staircases built for more Lilliputian folk.
The room
In contrast, the timbers of our suite loftily rise to a high-ceiling. Built in an era when glass was an expensive luxury, the bedroom decadently has mullioned windows on three sides. Quirkily, one window looks into the interior of the large Wool Hall where merchants displayed their wares and held their trade meetings.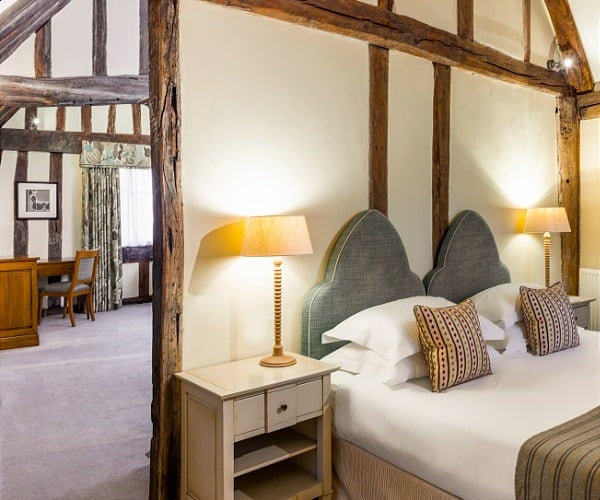 The lounge is more than large enough for a two-seater sofa, two sumptuously welcoming armchairs, coffee table offering glossy county magazines, dining table and wardrobe too. Now that radiators provide 21st century warmth, the large fireplace is purely ornamental. Numbers on the beams reveal the logistical care required when timbers were removed during renovation and restoration.
The bathroom
In a historic bowing building that rarely does straight lines, the bathroom has a leaning wall too. Yet, that does not stop this white-tiled, dark-beamed haven of cleanliness from providing ample shelving.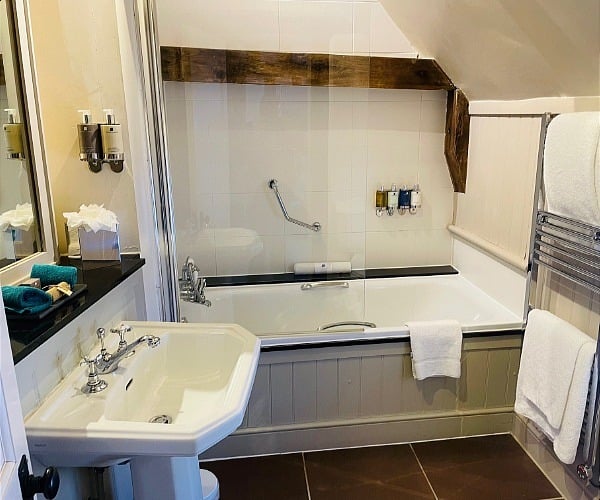 Temple Spa toiletries wait by a large, deep bath, also home to a rainfall shower and hand-held shower.
The facilities
Surprisingly, The Gallery restaurant was created in the 1960s though it looks as if it should have hosted grand Henry Vlll banquets with musicians playing their lyres in the minstrels' gallery above.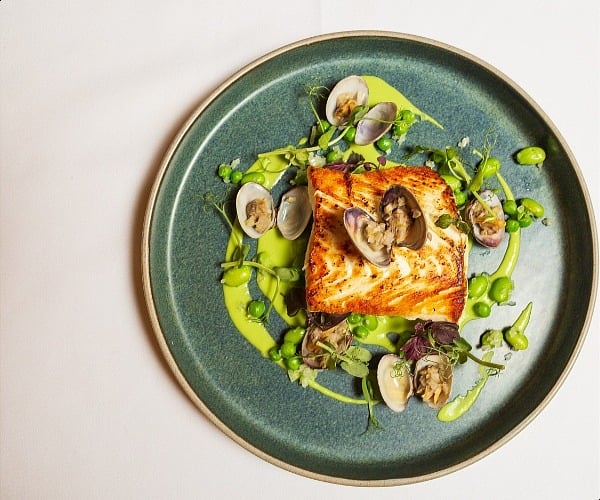 Every day, a substantial cut of meat, perhaps a 16-ounce T-bone steak, and the fish catch of the day, headline the menu. Immediately beneath, roast onion cleverly filled with the local black bomber cheese redresses the balance for vegetarians, whilst spring vegetable and lovage orzotto provides a vegan option.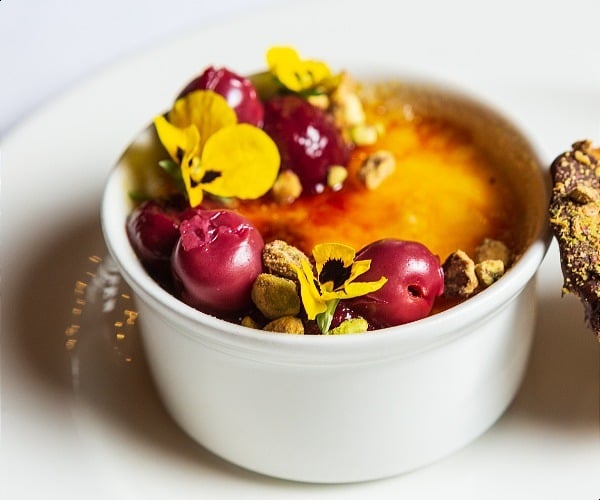 At a time when many restaurants are cutting back on choice, The Gallery has eight main course options including halibut, hogget loin, plaice, pork, and poussin that draws dinners from afar. Slightly more informal, The Brasserie shares many of the dessert options on the Gallery's menu.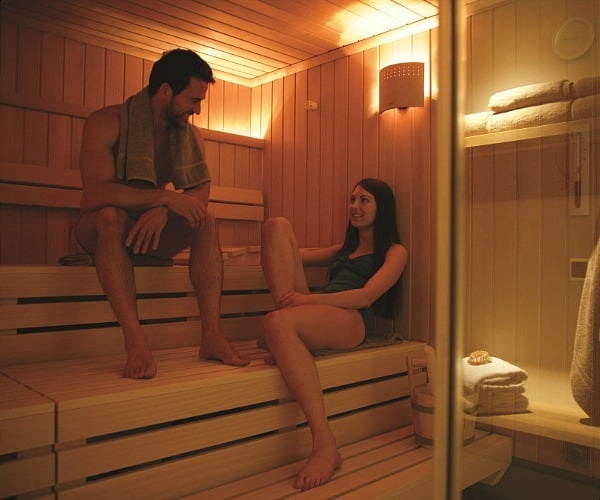 Welcoming guests with an invisible hug, the soothing Weavers' House Spa has an outdoor heated vitality pool for guests to use before or after treatments. In the six treatment rooms, hydrotherm heated water mattresses warm in winter and cool in summer. Alongside there is also a sauna and steam room.
Location
Lavenham is in pole position for exploring Suffolk, from Newmarket's racing charms to the north-west and Sutton Hoo less than an hour to the east.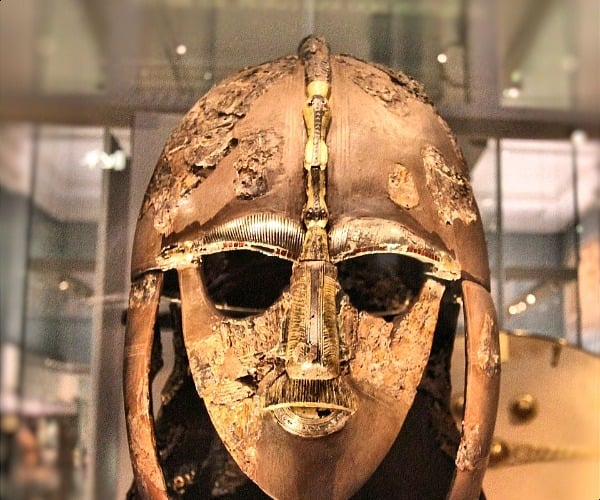 Netflix's film The Dig, focusing on the relationships behind the Sutton Hoo dig, racing against onrushing war in 1939, has revived interest in the Anglo-Saxon burial mounds. A fascinating tour reveals how the discovery of the ghostly remains of a royal burial ship has finally shone a light into the unknown Dark Ages. Though the prime exhibit, the restored helmet is now in the British Museum.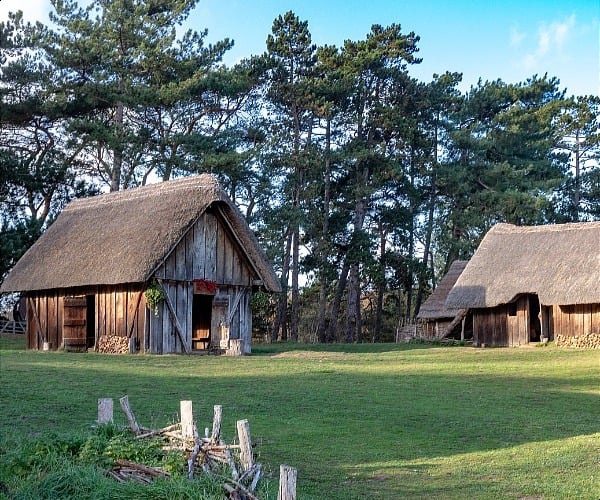 At West Stow, the Anglo-Saxon village again illuminates an era that Norman propaganda deliberately dismissed as primitive Dark Ages. Back in 1973, to a Pink Floyd soundtrack, students laboriously recreated a village that had stood there from around 420 to 680 AD.  Studying deterioration is all part of this ongoing experimental archaeology project.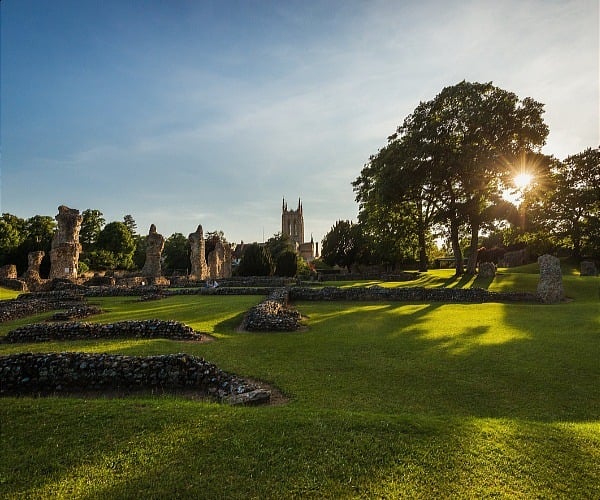 Nearby Bury St Edmunds has the Abbey Gardens where you can see the remains of the millennium old Abbey and spend time in the nearby Cathedral. It is also worth booking tours of the Greene King Brewery and Regency Theatre Royal as well as making a visit to Moyse's Hall Museum.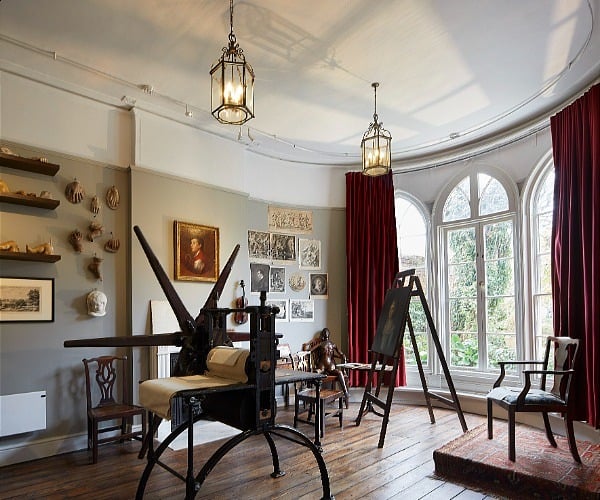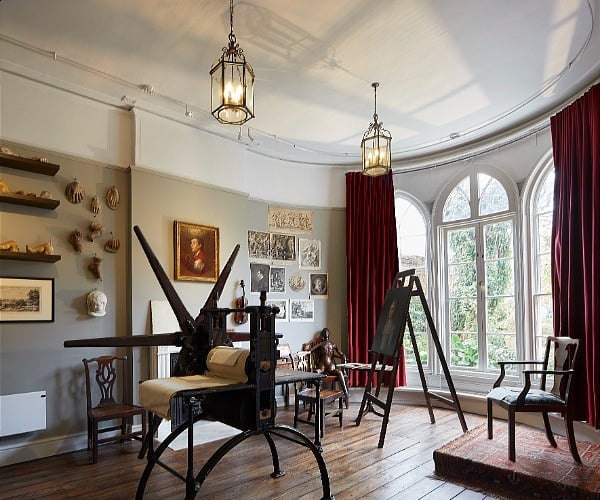 Growing up in Sudbury, nature was Thomas Gainsborough's tutor. His house and museum, show how although portraits paid the bills, including one of Admiral Vernon who allegedly watered-down sailors' daily rum ration, Suffolk landscapes were his first love. One room in the museum focuses on Suffolk's silk industry which contributed to Queen Camilla's Coronation dress.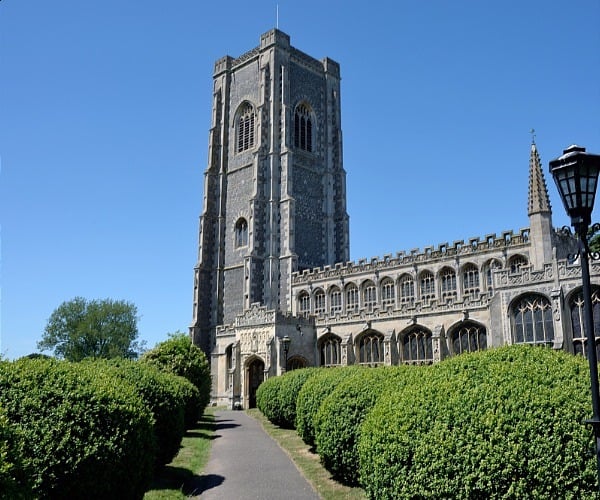 On Wednesday and Sunday a guided walk tells the story of Lavenham. As the vast church suggests, this was once the 14th wealthiest town in England.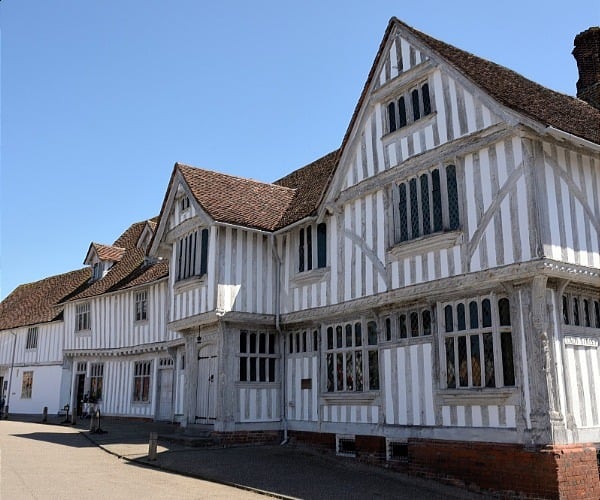 Taking in Lavenham Guild Hall, it's timbers now lime-washed and preserved by the National Trust, the tour focuses on a time-capsule of an era when Dyer, Fuller, Skinner and Webb families made their living from wool.
IMPORTANT NOTICE:
If you are reading this article anywhere other than on A Luxury Travel Blog, then the chances are that this content has been stolen without permission.
Please make a note of the web address above and contact A Luxury Travel Blog to advise them of this issue.
Thank you for your help in combatting content theft.
Other nice touches
The gardens of a cloisters-secluded courtyard are reserved exclusively for the use of residential guests.
Beyond the famed Butchery Breakfast, The Gallery restaurant has an unusually cosmopolitan menu for an English hotel: poached eggs combine with avocado and feta cheese on sour dough toast, shakshuka brings Middle Eastern flavours to Suffolk. As well, there are ricotta hot cakes with honeycomb butter and fruit compote or chia seed and oat breakfast scone, again with berries.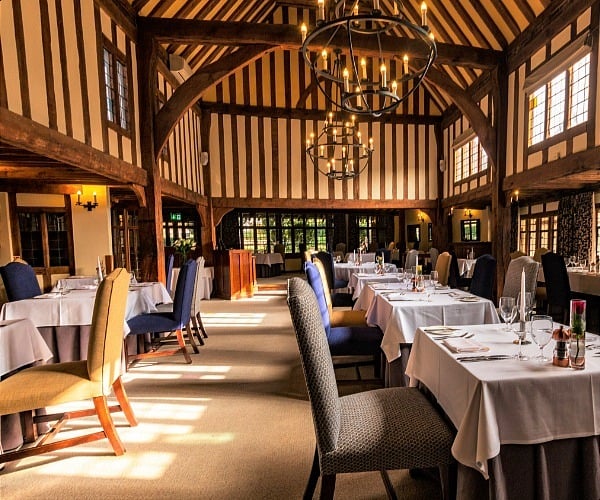 Numerous nooks and crannies form a lounge that meanders through and around the ground floor, provide many a quiet spot for coffee, afternoon tea or drinks.
Cost
Rooms start from around £170 per night for two sharing including a full Suffolk breakfast.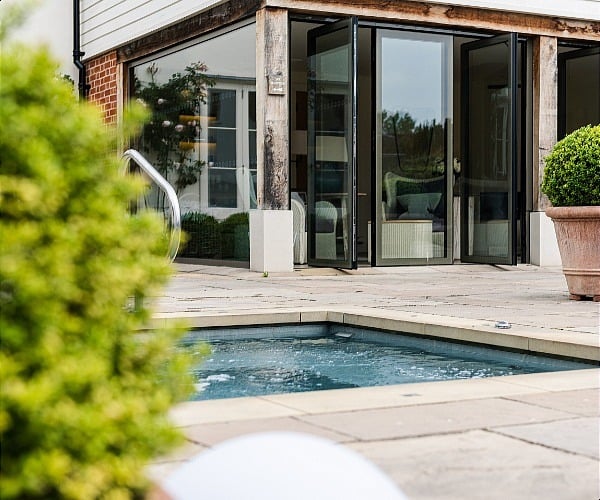 Overnight guests can also enjoy a complimentary hour's session with use of the facilities in Weavers' House Spa including the courtyard vitality pool (heated to 38-40 degrees), sauna, steam room and relaxation suite.
The best bit
A tour of the hotel shows the small shoes that were buried in the foundations 600 years ago, to bring the building good luck.
Telling the story of more recent history, in the Airmen's Bar graffiti on the walls recalls the American airmen who served on the nearby air base during the Second World War.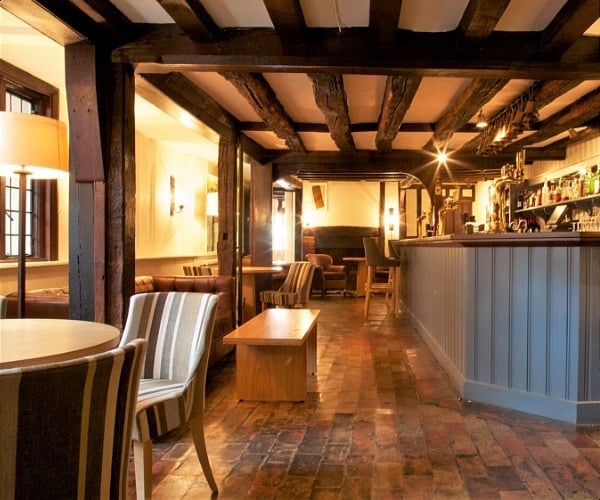 Another wall poignantly features the words of airmen, or of their families, who have subsequently returned to Lavenham.
The final verdict
Going from strength to strength, The Swan is continually restoring and redecorating, currently working on one of the 45 rooms every month. In a rambling, higgledy-piggledy building, every room is unique, ranging from the compact to spaciously luxurious suites. Historic charm, fine-dining and impeccable service make The Swan the place to stay for discovering Suffolk.
Disclosure: Our stay was sponsored by The Swan at Lavenham Hotel and Spa.