The Great Ocean Road is Victoria's coastal road to adventure and the world's longest war memorial. It was built by World War One soldiers in memory of those who lost their lives in war. It is one of the most iconic road trips in Australia and the world. It's no surprise then that it's a popular route but you can still enjoy it away from the crowds if you add these 9 must-see places to your Great Ocean Road itinerary.
Travel 250 kilometres along the southwest of Victoria and let your senses be swept away by the sights, sounds and smells. The Great Ocean Road has the scenery, the beaches, the forests, the best spots to hang out, wildlife in its element and culture to embrace. It is the ideal way to travel through Victoria. Start your adventure at Torquay, less than a two hours drive from Melbourne and discover the best of Australia.
There are many incredible stops along the way; at Bells Beach, experience surf culture; at Erskine Falls feel the sprays of a 30-metre plummeting waterfall; and at Lake Elizabeth, catch glimpses of rare platypuses on an eco-tour. Or you could explore the Otways bushland and the famous 12 Apostles. While every stop is worthwhile and just as mesmerising as the last, these 9 places are a must-see to add to your Great Ocean Road itinerary. Take it slow and spend three to four days experiencing this breathtaking landscape.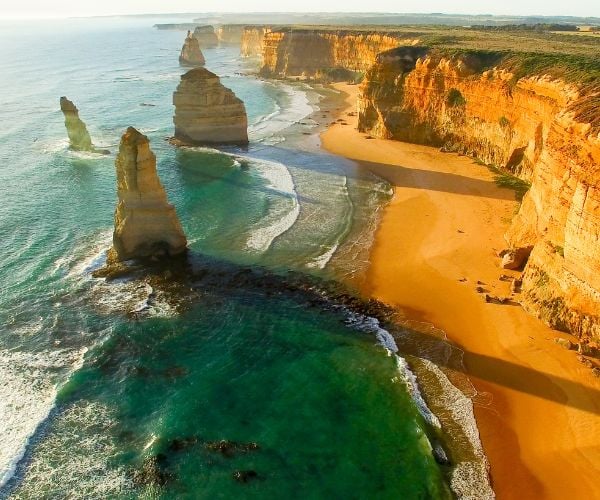 Swing Bridge Cafe, Lorne
Lorne is a down-to-earth, charming little town with markets, shops and some incredible places to eat. The Swing Bridge Cafe is somewhat of a local secret because you have to navigate through a campground to reach the parking lot. However, it is the loveliest place to stop for a snack while road-tripping and the views are incredible. Victoria's breathtaking South-West coastline is right in front of you. After your bite to eat, stop at Teddy's Lookout to admire the sweeping views of the rainforest and the ocean's turquoise waters.
Marriners Lookout, Apollo Bay
Marriners Lookout is in the foothills of Apollo Bay, a traditional fishing village famous for its seafood. It offers a panoramic vantage point with an almost bird's eye view of the Great Ocean Road and its shoreline. Don't pass up this hidden treasure, which is only a short drive from town and a short walk from the overlook. If the conditions are right you might even witness a hand-glider take-off from this point.
Triplet Falls and Hopetoun Falls
Avoid the crowds at the Otway Fly by going to Triplet Falls instead. Known as one of Great Otway Park's most impressive waterfalls, Triplet Falls offers a spectacular one-hour loop hike through an old rainforest. You can hear the roar of the falls before you even reach the viewing platform. A series of elevated viewing platforms give you breathtaking views of the three falls.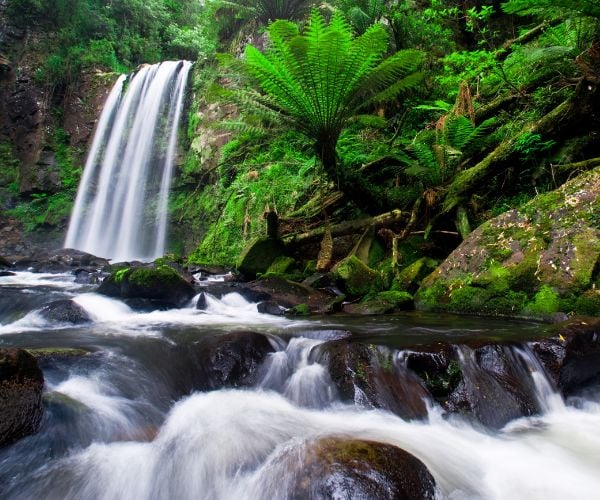 Feel the spray on your skin as the Hopetoun Falls, located in the Great Otway National Park, plunges 30 metres into the Aire River. Enjoy the views from the upper platform, or descend 200 stairs to the waterfall's base amid fern glades. Give your legs a break and rest on the bench on the platform while admiring the scenery. After resting at the waterfall you could do the self-guided Maits Rest Rainforest Walk, a boardwalk meandering through valleys of the rainforest with century-old Myrtle Beech trees.
The London Bridge, Port Campbell National Park
The London Bridge rock structure off the Great Ocean Road is a site that most visitors miss because of the history of its unexpected collapse in 1990. Now that the observation platform has been built, it's worth seeing the magnificent rock formation and, if you're lucky, spotting a few penguins on the shore. As you pass the 12 Apostles on your way to Peterborough or Port Fairy, you should include this stop in your Great Ocean Road itinerary.
Loch Ard Gorge, 12 Apostles Coast
One of the Great Ocean Road's most picturesque locations is Loch Ard Gorge, a safe, sandy beach tucked between cliffs. When the swell is high, waves thread their way up the coast and through the gorge. The inlet also becomes smooth and turquoise blue when it is calm. Time your visit for sunrise or sunset to avoid any crowds.
The Arch, Port Campbell National Park
This is another arch creation that many tours overlook but are worth a visit. Two excellent viewing platforms are available at The Arch along the Great Ocean Road, allowing you to get remarkably close to the water's edge and take some unique photos that gaze back towards the 12 Apostles. Try to go in the late afternoon when the sun is setting and the arch is bathed by a golden glow. It's the perfect photo opportunity.
Whale watching, Warrnambool
You can see Southern Right Whales, Humpback Whales, Blue Whales, and even Orcas along this "whale corridor," which runs between Warrnambool, Port Fairy, and Portland. These giant marine mammals migrate to the coast of Warrnambool, a stunning town on Australia's Great Ocean Road, each winter. Get to see these magnificent creatures up close in the wild.
IMPORTANT NOTICE:
If you are reading this article anywhere other than on A Luxury Travel Blog, then the chances are that this content has been stolen without permission.
Please make a note of the web address above and contact A Luxury Travel Blog to advise them of this issue.
Thank you for your help in combatting content theft.
Childers Cove, Mepunga
Childers Cove is an undiscovered beach towards the end of the official route and a little off the usual path but a must-see place on your Great Ocean Road itinerary. If you're lucky, you might be the only one in the area. Beautiful sandy beaches with unique surrounding rock formations can be found at low tide.
Port Fairy and Griffiths Island
A great reason to continue along the Great Ocean Road is the picturesque and sometimes overlooked fishing town of Port Fairy. It's a hub of artistic inspiration due to its reputation for all things artisanal, including its yearly folk festival. After watching a sunrise on Griffiths Island, get a coffee in town and begin exploring the tucked-away art galleries, historic structures, and craft shops that Port Fairy offers.
Another fantastic location to see some local wildlife is Griffiths Island, home to the Port Fairy lighthouse and its colony of shearwater seabirds. An amazing hike leads from the mainland to Griffiths Island, which is connected by a causeway. At the very tip of the island stands the charming lighthouse. From May to October, there's a good chance you'll see wallabies and sometimes a Southern Right Whale at sea.
Andrew Morten is Founder of TravelEssence. TravelEssence creates bespoke, tailored trips to Australia and New Zealand.
If you would like to be a guest blogger on A Luxury Travel Blog in order to raise your profile, please contact us.